A study of BIM and the BIM of Heron Tower
A study of BIM and the BIM of Heron Tower, London
1. Executive Summary
BIM is a technological innovation which may provide improved collaborative environment amongst the companies involved across various disciplines in a construction project. This project aims to understand BIM through the study of BIM itself and then it's application on the Heron Tower, London to further understand about the concept. This is performed via literature studies of the data available on the internet.
A further study is done on some other applications of BIM to understand the wide scope of this technology and its ability to improve the efficiency of the construction process by reducing the cost and time as well as creating a structure which is energy efficient and environment friendly.
2. Background of the Heron Tower
The Heron Tower was designed by Kohn Pedersen Fox [1]. The tower was designed to be 183 metres tall, with same height as that of Tower 42, the then tallest structure of London since the 1980's. It would replace the existing offices of Kempsen House and Bishop's House [3]. "We are creating the future City workplace, fit for the finest International organisations. This vision provides the blueprint for Heron tower" – said Gerald M. Ronson, CEO, Heron International. The main usage of the tower was a commercial office of international standards for catering to the demands of the big business houses of the city. It would also have space for shops, conference rooms and dedicated floors for bar and restaurants. It was planned to be the tallest structure in the city of London and 3rd tallest in Greater London after the tallest building, the Shard and second tallest, One Canada Square.
The project was approved for construction in July 2002. However, the construction did not begin until September 2005 when the Heron Property Corporation decided to increase the height of the tower from 183 metres to 230 metres by increasing the height of building to 202 metres and addition of a mast, 28 metres tall. The new proposed plan was environmentally better suited by having additional usage of solar power with better technology. The final approval was given by City of London Corporation in January 2006.
Finished in 2011 after the construction started in 2007, the Heron tower stands at 230 metres tall with 46 floors. The tower is now better known as 110 Bishopsgate after a naming dispute occurred and the City of London corporation ruled in renaming the name of the tower to this new name. Another informal name for the structure is Salesforce tower after the software firm Salesforce made a fifteen year agreement and acquired floors 28-31 on rent. Also, because of the Great Recession after it's construction, it was initially not fully let. However, at present, it is fully let and functioning efficiently as an important corporate hub of the city. The tower has the team housed in the tower itself because of which they are available 24 hours per day, hence providing exceptional standards of service to its clients and building the best relationship with its customers.
3. Mission behind using BIM
Building Information Modelling (BIM) is a fairly new technology which aims at developing a common platform for all the information and activities which occur during the construction of any structure and enabling a convenient way of sharing these data amongst the different disciplines involved in the construction viz. structural planners, contractors, architects, cost managers and letting consultants.
BIM can be defined as "An integrated process carried out digitally, aimed at providing reliable, coordinated and shareable data during all the phases of the project, starting from design through construction and till operation of the finished building". It uses a common-data environment on which all the companies involved in a project across various disciplines work simultaneously in coordination to achieve best possible results.
Traditionally, when a building project is approved for construction, the teams involved in various disciplines carry out their tasks individually leading to uncoordinated work flow which may create a lot of loopholes in the execution itself. For example, the architect may design a part of a building which may not be feasible structurally or economically in reality. This may not be realised until he actually finishes his design and gives it to the structural engineers. BIM will make the sharing of the thoughts and ideas easier and convenient and hence it will be much more easier and time efficient for all disciplines to coordinate together, thereby reducing the costs. [9]
However, due to organisational, personal or technological limitations, the organisations are not accepting the BIM technology readily. The need is to perform detailed studies on the response of the industry towards BIM and provide adequate training to the organisations and the employees wherever necessary.
BIM for this project is aimed at the 2D and 3D study of the designs. The detailed study of various disciplines which were involved in the project along with the BIM tools that were available to them, the comparison of this project with various other similar BIM projects to analyse the positives and negatives, and hence develop an understanding of the importance of BIM and its applications to various projects.
4. BIM software used in the project
The team behind the construction of the Heron Tower had the following companies handling various disciplines: [6]
| | | |
| --- | --- | --- |
| S. No. | Discipline | Company |
| 1. | Architect | Kohn Pedersen Fox Associates |
| 2. | Contractor | Skanska |
| 3. | Project Manager | Mace |
| 4. | Structural and Civil engineers | Arup |
| 5. | Building Service Engineers | Foreman Roberts |
| 6. | Cost Managers | Davis Langdon |
| 7. | Strategic Consultants | KKS Strategy |
| 8. | Letting Agents | CBRE (Richard Ellis) |
| 9. | Legal Advisors | Linklaters |
| 10. | Insurers | Lockton |
The BIM software used in various disciplines are:
| | | |
| --- | --- | --- |
| S. No. | Discipline | Software Used |
| 1. | Architecture Design | Autodesk Revit Architecture |
| 2. | Sustainability | Graphisoft EcoDesigner |
| 3. | Structural Design | Autodesk Revit Structure |
| 4. | MEP | Autodesk Revit MEP |
| 5. | Construction Simulation | Autodesk Navisworks |
| 6. | Facility Management | Bentley Facilities |
The software used for the BIM of the project was the best in class Autodesk products which makes it convenient and reduces time consumption during the actual construction process. Every discipline involved in the project can pre-simulate and pre-analyse the possible problems by visual inspection of the 2D, 3D and even 4D, 5D, 6D models of the project, the 4th, 5th and 6th dimension being the time, money and labour involved in the project. As such, the final structure thus constructed is time and money efficient using latest technology and is also environment friendly.
5. BIM system and its advantages
5.1 Advantages of BIM
BIM as a tool is a fairly new technology in the field but it has already proved it's worth. The vast possibilities with this technology means that it will grow with a great pace in the coming future with the increased awareness and expertise of the organisations. BIM may provide the following advantages when used to its fullest potential:
Capturing the reality – With the advancement in data capturing devices such as lasers, as well as high end simulators, the models can be made with utmost precision. This can then be analysed like a real object in the required circumstances.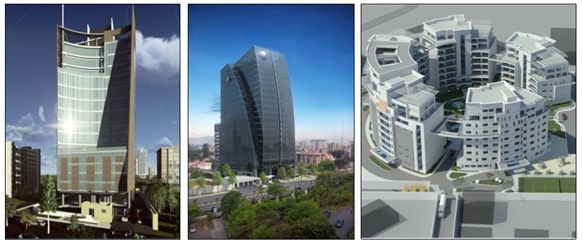 Promotes collaboration – The increased usage of BIM by multiple disciplines in a project will mean that all these disciplines will always be connected through BIM software making it easier to share and analyse the data together. This also means that the companies involved in the project does not necessarily need to visit the actual construction site regularly. Instead, they may even be situated in another country and interact with the team via the new technology. [8]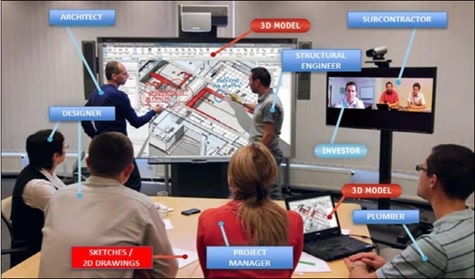 Reduces re-work – The fact that the models can be viewed in different circumstances means that there is a considerable reduction in the time and resources required to re-work a model drawing for different angles and circumstances.
Easier to analyse and resolve conflicts – A situation may arise that the designs of structural engineers and MEP engineers may have conflicts. For this to be found and corrected manually, it will require time and efforts from the organisations. However, this can be easily done using the BIM technology.
Detailed plan for execution – We can model almost every step which will be carried out during the actual construction before it actually starts. This provides a great way to reduce time and costs and provide alternatives in case a problem arises causing a delay in the estimated workflow.
5.2 BIM of Heron Tower
Specifications with floor plans & pictures
Overall dimensions
Building height = 202 metre tall building with 28 metre high mast
Office floors = 36, from floors 2-37
Bar, Restaurant and Conference rooms = floors 38-40
Plant floor level = 6, from floors 41-46
Floor dimensions (as planned)
Office floor = 20 metre glass-to-glass and 12.7 metre core to atrium
Office floor occupancy = 10 m2 per person
Dealer floor = 49.5 metre by 24 metre
Dealer floor occupancy = 7 m2 per person
Floor to ceiling heights
Office area = 2.752 metre
Entrance hall = 11 metre
Loading bay = 4.6 metre
Raised floors = 0.18 metre
Toilets
60 toilets for males and females
A toilet on each floor for the disabled
Parking
5 for cars
34 for motorcycles
256 for bicycles
Design criteria
10 m2 per person, considering 15% are absent per day
Average interval is less than thirty seconds
Lifts
Floors 2-20 = 5 lifts with capacity of 21 persons (1650 kg), including three scenic lifts with the speed of 3.5 mps
Floors 21-37 = 5 lifts with capacity of 21 persons (1650 kg), including three scenic lifts with the speed of 7 mps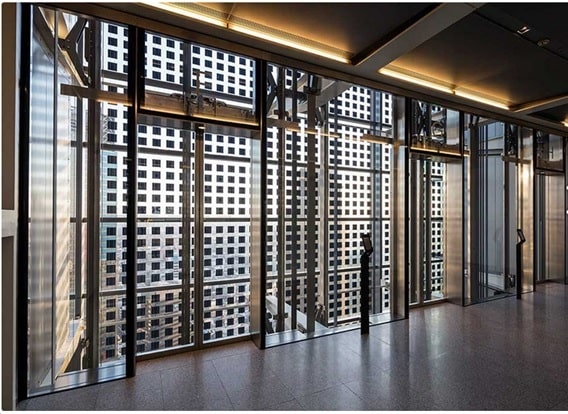 Service lifts
For fire fighting = 1 lift with capacity of 10 persons (800 kg), an additional lift for the restaurant may be used in case of emergency
Roof-top shuttle lifts = 2 lifts with capacity of 16 persons (1650 kg), specially for the roof-top restaurant, present at the restaurant entry of the Heron tower, with a speed of 5 mps
Goods lifts = 2 lifts of capacities 3000 kg and 3300 kg
Vehicle lift = 1 lift of capacity 4465 kg
Security features
CCTV coverage of external and common areas
Control over all the entrances to the building
Screening of mails
Detection of intruders in common areas
A secured cable connection
Control rooms to monitor the activities
Electrical systems
8mva or 11,000 volts supply
12 w/m2 for lighting
25 w/m2 for offices
20 w/m2 for office upgrades
110 w/m2 for dealer floors
Telecom system
Two primary systems
Control room in basement
Structured cables
Fibre optic cable per tenant
Air conditioning
4 pipe water cooled fan system with space for a humidification plant
External temperature conditions considered for design = 29-20 degrees
Internal temperature required = 22 +/- 2 degrees
Fresh air capacity = 10 litres per second per 10 m2 area
Separate ducts for kitchens
3 - 11,000 volts generators at roof plant floor, air cooled which can carry 100% load requirement of the tower in emergency
Structural details
8,500 individual steel pieces are joined together
40,000 m2 area of cladding
31,150 m2 area of glazing
11,000 tonnes of steel is used
249 small diameter piles of 900 mm diameter and 15 large diameter piles are used
Out of 15 large piles, 7 of them are bearing piles
5.2.2 Energy efficiency
The Heron tower has already received the BREEAM rating of Excellent, with the production of carbon dioxide estimated at 30 kg/m2 per year. The key features of the tower are:
Solar cells on the external walls of the scenic passenger lift area
Tanks for collecting solar heated water on floor 41
Blinds for windows on the east and west directions to reduce the cost and energy consumed in maintaining the internal temperature conditions
The walls on the east and west directions have double layered ventilations to ensure air flow
The south core is present at an offset so as to reduce the amount of incoming solar energy absorption
5.2.3 Cost
The Heron tower was constructed at a total cost of 185 million pounds. The capital had to be managed by letting out the offices as soon as possible. The first tenant of the tower was McDermott Will and Emery, which came onboard in July 2010 itself while the building was still under construction. However, due to Great recession, the tower was only 59% let until September 2013. Starwood Capital Group had to refinance the project with 288 million pounds to save the project. Subsequently, in January 2016, the tower was confirmed to be fully let.
5.2.4 General facts
The entrance lobby of the tower has a 70,000 litres aquarium with thousands of fish on display
The building is divided into 12 parts, each with three floors. These individual divisions are known as villages. It offers greater layout possibilities.
The tower has three basement levels for parking and control rooms.
The tower has external steel structure which prevents the need of columns which intrude the aesthetics of the building
The walls used are made of glass which minimizes the need of artificial lighting and hence is energy-efficient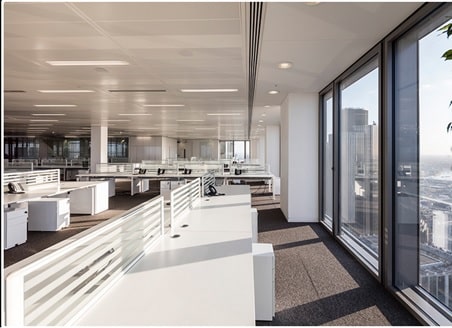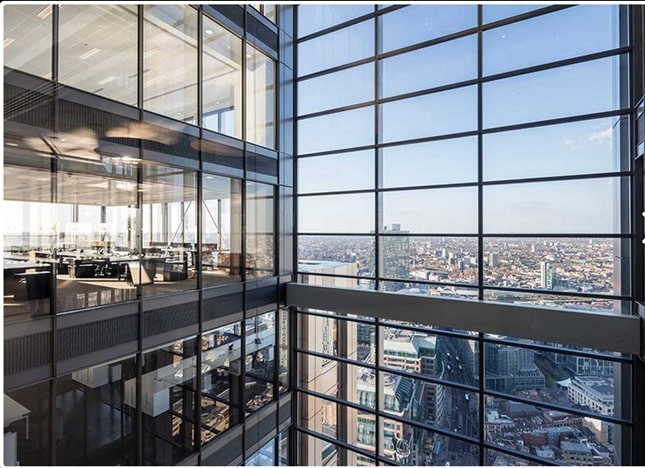 The tower has SushiSamba restaurant at the top three floors with a dedicated restaurant entrance, designed by architect CetraRuddy. It is the restaurant's first European venture. It also has Duck & Waffle restaurant.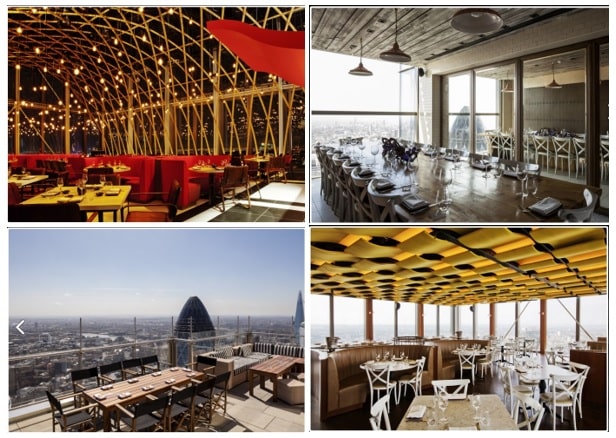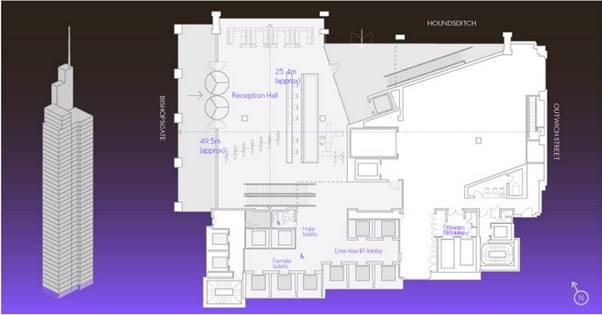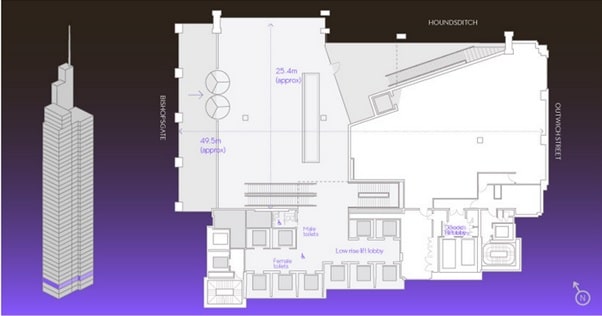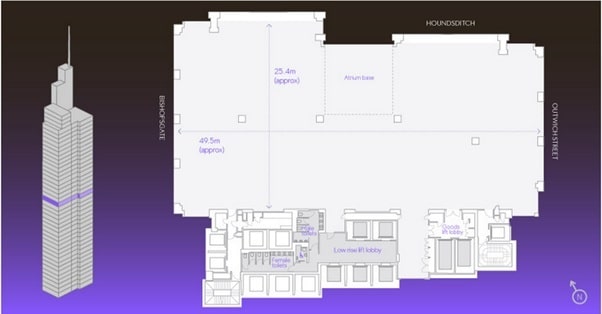 5.2.5 Reports on the involved companies
Skanska construction – Main contractor
| | | |
| --- | --- | --- |
| S. No. | Discipline | Company |
| 1. | Aquarium | Reynolds Polymer Technology Inc |
| 2. | Architectural Metalwork | CMF |
| 3. | Asbestos testing | MLM Environmental |
| 4. | Cladding | Scheldebouw |
| 5. | Internal glazing | Astec |
| 6. | Lightweight Drywall | Lightweight Drywall Ltd |
| 7. | Lifts | Schindler Elevators |
| 8. | Logistics | Clipfine |
| 9. | Masonry | Gormley Masonry Services Ltd |
| 10. | Metal doors | Swift Horsman |
| 11. | Scaffolding | Trad Scaffolding |
| 12. | Services contractor | Skanska Rashleigh Weatherfoil |
| 13. | Structured steelwork | Severfield-Reeve |
| 14. | Sub-Superstructure Concrete | Byrne Brothers |
| 15. | Suspended ceilings | Clark & Fenn |
| 16. | Steel Pile | Tubosider |
Installed flooring across all the 41,000 m2 area of the tower with RMG600 Panel and Alpha 3 and Alpha 5 pedestals [7]

KKS – Atrium space options
Optimal lobby design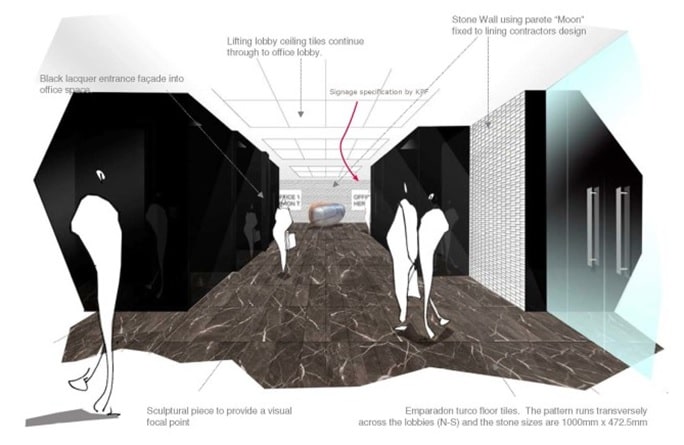 Atrium ideas [5]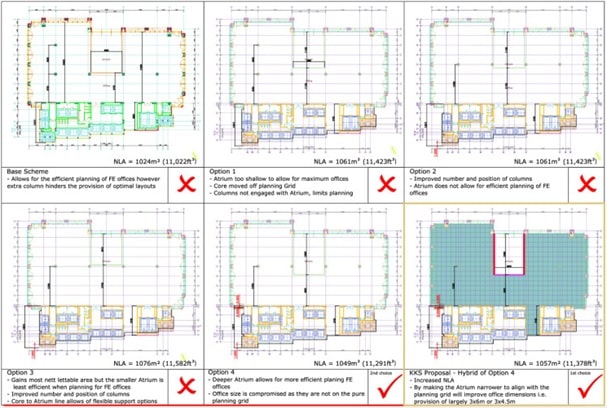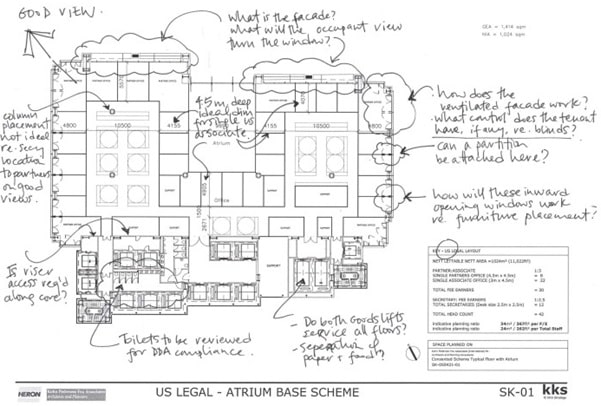 5.2.6 Construction phases:
Construction of lower floor levels – May 2008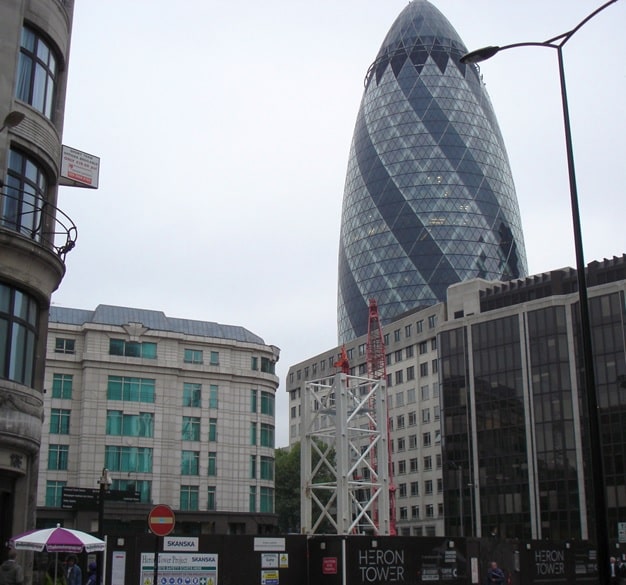 Construction continues – October 2009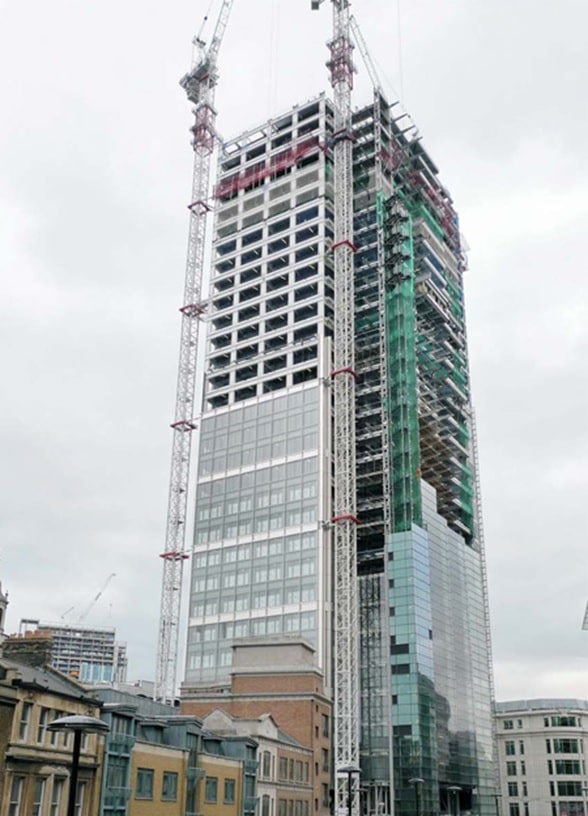 Construction of top floors – January 2010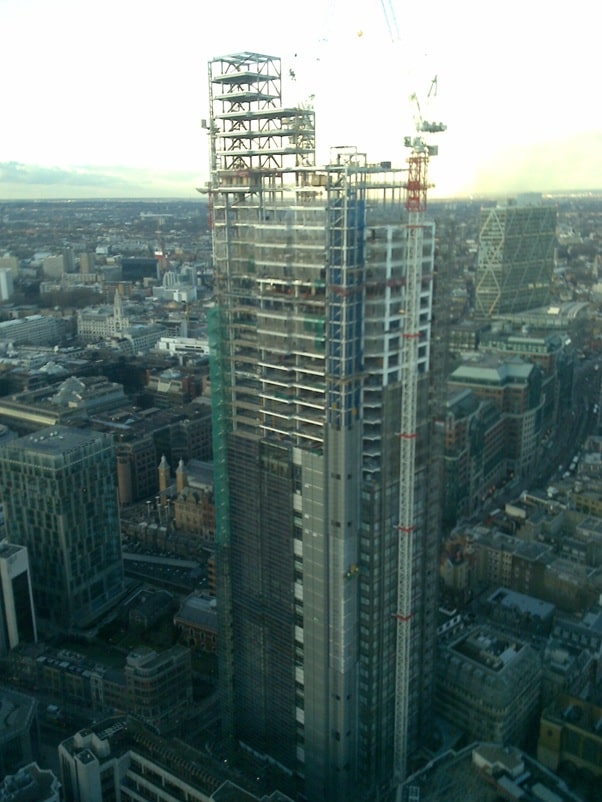 Finished Building – December 2010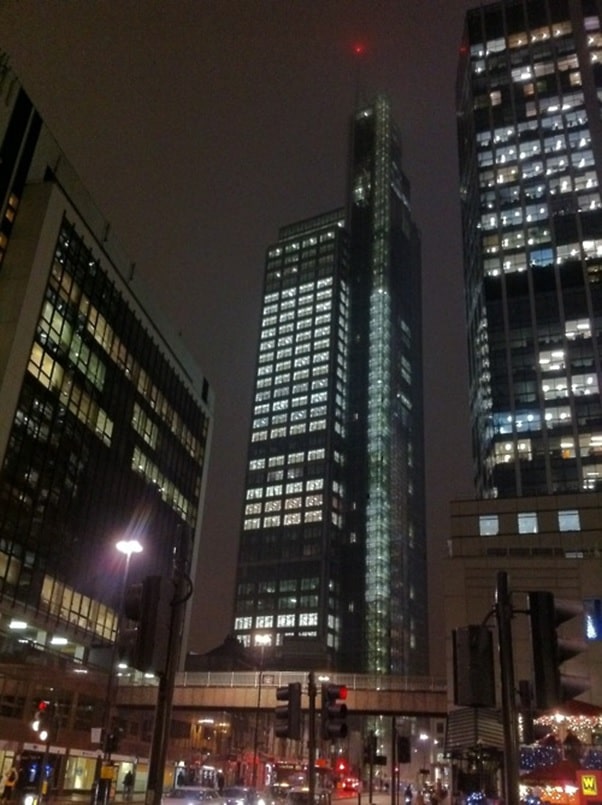 6. Similar BIM Examples
Following BIM project examples done by BIM Academy shows us the effectiveness of this technology. [10]
6.1 Durham cathedral
BIM was done to reconstruct the 900 year old building into a 3D model and demonstrate the benefits of BIM in the conservation of the building.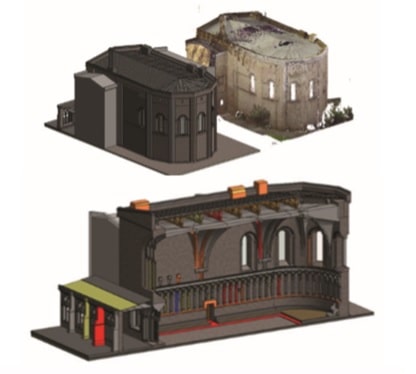 6.2 Sydney Opera house
The need was to conduct BIM to facilitate the existing as well as future refurbishments of the building.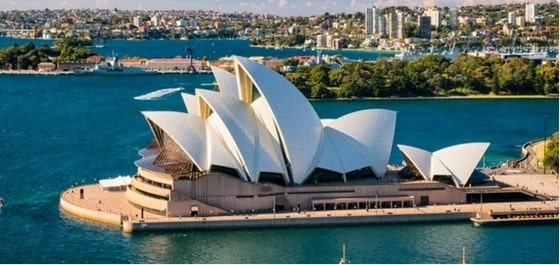 6.3 Leeds beckett university
The Leeds beckett estates services had the need to improve utilisation of space and reduce carbon emissions across its offices for which the analysis was done using BIM.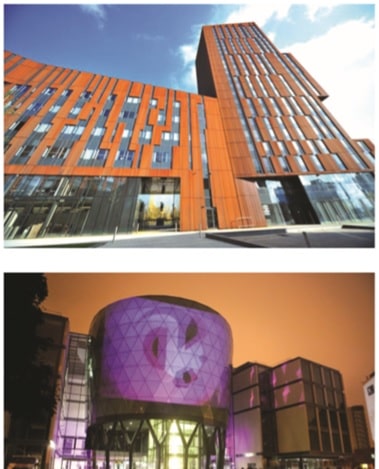 7. References
Wikipedia – Heron Tower [online]. Available at: https://en.wikipedia.org/wiki/Heron_Tower
E-architect – Heron Tower [online]. Available at: https://www.e-architect.co.uk/london/heron-tower
com – Web archive [online]. Available at: https://web.archive.org/web/20120303094930/http://www.herontower.com/
Salesforce tower official website [online]. Available at: http://www.salesforce-tower.com/
KKS space official website [online]. Available at: http://www.kks-space.com/project/heron-tower/
Skanska web archive [online]. Available at: https://web.archive.org/web/20090207092452/http://www.skanska.co.uk/en/Projects2/Heron-Tower/Project-description/
Kingspan official website
Engineers Ireland, 'BIM Practical examples and learning'
Christoph Merschbrock, Bjorn Erik Munkvold, 'Succeeding with BIM: A case study of BIM diffusion in a healthcare construction project' (2014)
BIFM, 'BIM case studies for asset and facilities management' (September 2015)
Images of Heron tower [online]. Available at: https://images.google.com/
Resources
24 x 7 Availability.
Trained and Certified Experts.
Deadline Guaranteed.
Plagiarism Free.
Privacy Guaranteed.
Free download.
Online help for all project.
Testimonials
Urgenthomework helped me with finance homework problems and taught math portion of my course as well. Initially, I used a tutor that taught me math course I felt that as if I was not getting the help I needed. With the help of Urgenthomework, I got precisely where I was weak: Sheryl. Read More