Urgenthomework Testimonials:
Razi | USA - Urgenthomework.com helped me with proofreading and editing my supporting statements as previous one was too long, the support given was beyond my expectation as my own work sounds perfect. A perfect job! I was pleased with the job.
Paul | Australia - I am in love with this website because it helps me in all my subjects. It has helped me to create a website for my college project. My project was selected as the best project in the class.
Katharyn Mayes | USA - Physics has always been very tough for me. It uses to feel like a burden to me. Thank you urgenthomework.com for making me understand tough concepts of physics. They are available 24*7 to clarify any science concept to me. Now I love physics and it is such a fun learning physics with urgenthomework.com.
Harry | USA - I strongly believe that they have people with high experience, they serve high caliber and unique task of 100%. This is a reliable site and you can get your task on schedule and even previously. This site causes me a great deal to get high evaluations. I AM VERY SATISFIED. My professors are pleased to see my assignment and I'm pleased that I get done through you. Thank you for being a great help…
Smith | UK - I was very weak in database concepts and was unable to understand how it works but after reading Database from urgenthomework.com, I can frequently work with database very efficiently.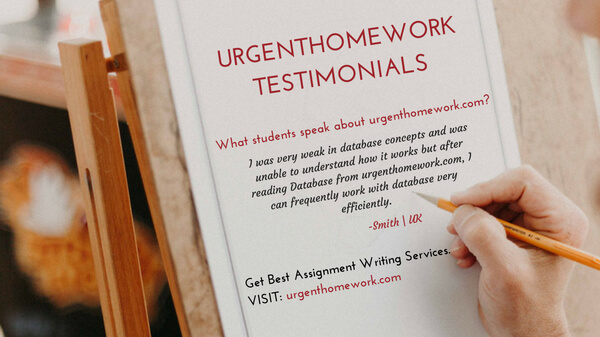 Rozy | USA, California - I can't believe these people completed my homework within 5 hours and that too with so much clarity and precision. Excellent service and support. I will use the services of this website for all my future homework and assignments to gain a better understanding of my subjects. Thank you so much for providing such good service.
Ashley | UK, London - Appreciable you hard working guys. Thanks UrgentHomework for marinating quality and still on schedule as per the deal. I am very happy with the operating system project help and database homework help provided by you. I would like to use this site for all my future course work.
Unsatisfied customer: You didn't fulfill my all query and I had to the wait whole night chasing you to deliver satisfactory SPSS course work.
Anonymous - "I always surprise my friends and teachers with the essay marks! Curtsey go to Urgenthomework.com for my essay homework and essay assignment help."
Holley USA NC, History student: I found the tips and Sample History homework paper on urgenthomework.com that helped me a lot in completing my homework for history class, I would recommend you guys this portal as best online colleges homework help and universities Homework Help, university courses help.
kicking Australia: Urgenthomework: I got the Homework Help that I need; I will give 10 points on 10 scales. Cool homework helper website for all Subjects. Facility to ask a Tutor Online hassle free without waiting with customer support as other similar service provider do and get Help with Middle School. Also get Help your child succeed.