Education seemed to be on everyone's mind at the start of 2015 as two of the most powerful men in the world were talking about Education. The first impression came on January 20, 2015, as the President of the United States Barack Obama addressed Higher education as the most important pillar of the modern knowledge economy in his sixth SOTU address. The second voice was that of the richest man in the World, Bill Gates (and his wife Melinda Gates) who placed his bets on Online Education to bring an unprecedented global revolution. Co-incidentally both called education as the best tool to for providing equal opportunity to every American kid, enhancing the opportunity baskets and reducing inequality in the society. The benefits of both plans are set to reap returns from education today by 2030.
For the POTUS the endurance of hardworking Americans had reclaimed the economy from the clutches of the sub-prime crisis. Higher education seemed to have played a key role in recapturing a doomed economy and setting it on the path of economic growth with "shrinking deficits, bustling industry, and booming energy production". And that's when the President called upon the fellow American to aide him in materialising his (budgetary) vision for the next fifteen years.
Mr. President posited that 2 out of 3 jobs will require some demand some sort of Higher Education by 2020. Obama, thus, re-iterated his America's College Promise proposal that will provide two years of free community college education for willing students in America. The beneficiaries will be able to achieve an Associate degree for virtually zero tuition payment, provided they enroll on a half-time basis and maintain a GPA of at least 2.5. The community colleges are important educational institutions for many lesser-earning and middle-class family students. Also, community colleges are the learning avenues for employed personnel who wish to upgrade their educational skills for keeping pace with the dynamics of job markets as well as many veterans willing to enter job markets. With all hopes, President's promise is set to provide relief and hope to many middle-class families and will help them to achieve higher future earnings and dream careers without break-back student loans. However, there are a variety of things amiss.
First and foremost, the funding of the plan is not clear. While delivering on greater educational benefits, if the plan translates into higher taxes on the middle-class pockets then it is a flop show. Also, the SOTU address talked about taxing the 529 account, which was not palatable to most middle-class families who saved taxed free money to send their kids to college. The awkward proposal, which contradicted Obama's middle-class economics and higher education benefits scheme, was withdrawn as soon as it was spelled, and only for good. Various other gaps plague the implementation and intended benefits of America's college promise proposal. For a count, the plan talked nothing about coordinating employment generation with higher education. For middle-class families, the ultimate need is a well-paying job. If the education fails to transform into a quality high earning job then the opportunity cost of these "free two years of college" would be very high. The need of the hour is to have an effective linkage between education and industry such that our college graduates are job-market ready and are also readily absorbed into employment. This can only come from better quality community colleges courses, insistence on vocational training, greater on-field training in all courses as well as better opportunities for apprenticeships and on-field training in real work environments. For another loophole, Obama's administration did not actually figure out whether high school graduates are in fact interested in attending college. If even the "Free College" is affordable to families working hard to maintain their finances. And if not, is there an alternative scheme. This is where Mr. and Mrs. Gates' bet scores over the White House proposal.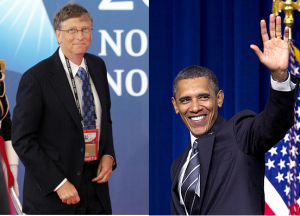 Much like Obama's Ben and Rebekkah, Bill and Melinda Gates also telltale of a construction worker Shawn Lee who went back to college to deal with the broken economy and provide a better life for his young son. However, even that did not work out well for Shawn and piled on his struggle to balance work and school. That's when Shawn took to the alternative of Online Learning. The Gates foundation is placing its bet not just on higher education per se to transform the lives in the next 15 years. They are in fact placing their bets on Online Education.
A long-time fan of e-learning and a Harvard drop-out, Mr. Gates is pledging his sweat for learning without walls.  The beneficiaries are not just the middle-class Americans in this case, but everyone around the globe. Rich, middle class or poor; developed or developing, "from Canberra to Chicago". The idea appeals on two fronts, one it automatically translates into wider access of education, internet and education technology to even the poorest people and two it saves time and money for those willing to learn and have access to tablet/smartphone. Bill and Melinda recognised that Online Education would be a global breakthrough over the next decade and a half as it is all set to become a cheaper, connected and the most interactive format of harnessing knowledge and skills.
Online Education can serve to create Obama's envisioned army of educated and skilled workers with the lesser fiscal burden as well as reduced travel-time and monetary struggles for employed learners and part-time students. Online education is equally a developmental asset worthy of Gates foundation's time, efforts and money. Equal access to online education will help to eliminate gender barriers in learning which plague many third world countries including India where Girls are not allowed to pursue higher education as they are not warranted to travel on their own. With online education coming to their fingertips, these girls will have a shot at equal literacy and all rounded empowerment. For the more affluent third world kids, the education technology gap will also be closed with online learning boom. Access to global methods of teaching and classroom technology at their fingertips will allow many teachers to benefit a lot better by collaborating with each other over the internet. They will be able to trade learning technology over the internet as well as get peer-reviews for improvisation. This will help to eliminate the learning-knowledge- an education-enrolment gap between the developed and developing countries.
Bill and Melinda's letter also offers another great advantage of Online Education in creating global job opportunities. With real-time knowledge and learning exchanges, there will be no cultural impediments in cross-country labour movements.  Students around the globe can track the curriculum with localized requirements and details in their region of employment interest and work towards better career paths. The benefits of adaptive and personalised learning technology will also be bountiful especially for slow learners as well as students with special needs.
However, while the bet sounds hopeful, several impediments will be the actual access to technology and learning devices, especially in developing nations, both in absolute as well as gendered terms; along with the actual gender-socio-economic factors that downplay education.
Also, while online learning solutions in advanced nations have come way ahead of online lecture posts and study notes, a lot of innovation in terms of Virtual learning and Virtual reality, Augmented learning solutions, m-learning and blended as well as flipped classrooms are still in the loop.
For both developing and developed nations, reaping the effects of the knowledge economy requires students to get a good quality education as well as till higher levels.  Ultimately both Obama and Bill and Melinda Gates believe that when the cost of education will go down with higher family incomes, children of the family will get a better education.
15 years do not seem like a less time to translate this vision into a reality. It's a cause worthy of global attention and should be on the agenda of every nation.
What bets are you placing on Higher education, edtech and e-learning for the next 15 years? We will be glad to hear your comments.