Consumer Electronics Show is annually held in Las Vegas and draws attention from across the world. The 2015 edition of CES was attended by thousands of technology enthusiasts, entrepreneurs, technology writers and consumers to have a closer look at the latest trends in technology and gadgets displayed by tech-innovators from all over the globe. The technology marvels this year ranged from smarter smartphones , high-tech gadgets for home security and automation, curved display and 4K TVs, health monitoring devices and other wearable tech devices, virtual reality gadgets as well as 3D cameras and printers, robots for all purposes, countless drones and right down to concept cars, aviation and manufacturing technology.
We bring to you the list of top 5 displays from CES 2015 that will appeal to all the students of schools, colleges and universities.

iBlazr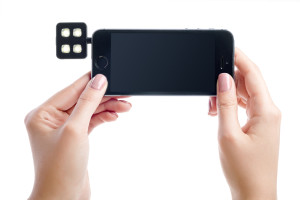 Selfie Sticks ruled 2014 (even CES 2015, with numerous techies bringing out their swivel sticks to capture selfies). However, CES 2015 has given an additional gift to the Photography (or selfie) enthusiasts. iBlazr solves the problem of bad light for photography. It is an external LED flash light that connects to your smartphone and provides optimal light to capture high quality photos and/or record videos.
This compact Flash stick connects to the smartphones via Headset port with its inbuilt 3.5 mm audio jack. iBlazr works with both front and rear camera. It features four powerful LEDs and a 70 degrees beam which emits steady light. The light is gentle (unlike the harsh flash) enough to enhance your natural features and even allows shooting videos in dark and at night. iBlazr allows users to adjust settings such as brightness and measure ambient light.
iBlazr has its own rechargeable battery (with flexible charger) which runs for around 500 photographs and does not drain the battery of your mobile phone. The flexible charger also makes this ideal for using as a reading and keyboard light as well as for light during video calling. It's, without doubt, the best innovation in photography since the selfie stick. iBlazr is compatible with iPhones and iPads having iOS 6 or higher, Android phones with 4.0 or higher versions and windows phones.
Lenovo's Selfie Flash for Vibe also remained a popular talk. However, it does not support Apple and various Android devices for now and runs for 100 photographs per charge.
LG Twin Wash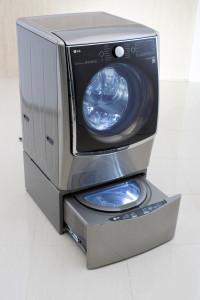 Ok so Saturday is Laundry night and it is terribly tiresome and boring to conquer over the mountain of dirty piles. It is even more tedious to separately wash your whites and delicate clothes. Well LG will solve that trouble as it has managed to deliver at CES 2015, a Twin Wash Washing Machine. Simply put, it is two separate washing machines fit into a single machine. While there is a full-capacity front load washer, the pedestal of the machine features a smaller drawer-style mini washer with separate wash cycle settings. This means you can now wash two separate laundry batches simultaneously, especially the whites and delicate clothes. Also, the machine features TurboWash and TurboSteam specifications for faster rinsing and drying. This means huge savings on your laundry time and energy bills.
If the time saved is not enough of a benefit, LG Twin Wash will appeal to the geeks with its NFC and Wi-Fi connectivity. It allows users to wirelessly set the wash cycle settings, monitor them through smart devices and sends alert messages on your smart devices when the wash is complete.
Rotimatic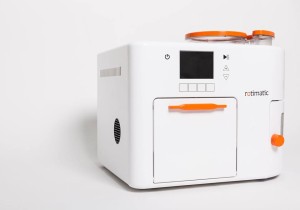 This robot is especially going to have all the Desi students hooked. Rotimatic is a robot which pumps out fresh homemade Roti. In case you don't know, Roti is a whole wheat flatbread popular in the Indian Subcontinent as well as South Africa and the southern Caribbean. Rotimatic is a simple machine which requires you to put in ingredients for maximum 20 Rotis at a time (flour and water) and with a single push of a button the machine churns out one perfectly round puffed Roti every second. There are various manual settings with which you can get the desired softness and thickness of these flatbreads. Additionally, there is an option of adding oil to the dough for Deep fried versions (Pooris and Parathas).  Rotimatic works with all brands and kinds of wheat flour.
Not only is this perfect for Desi students missing Mum's Handmade Rotis but for those who love making wraps for quicker and healthier options or for serving Flatbreads with Curry in dinner.
HP Zvr Virtual Reality Display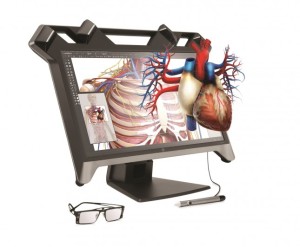 HP displayed a 23.6-inch diagonal interactive display screen which brings all images to life with a 3D virtual reality display. The real-time experience allows users to spin, rotate, manipulate and navigate through these 3D displays. The High Definition stereoscopic 3D pop-offs will offer interesting and interactive learning opportunities for students. The HP Zvr comes with four internal IR projectors and a pair of 3D glasses that track the movement of your head for viewing the content in a 3D format with full motion parallax processing technique. A wired Wacom Pen enables users to edit and navigate through these objects and offers unparalleled realism. As you Move your head, there is a real-time change in the view, field and focus of the image as well.  The HP Zvr is collaborative in nature and additional HP zView solution allows for the sharing of 3D images to 2D big screens as well. The screen will be immensely beneficial for students of Architecture Modelling and Medicine.
FFF da Vinci Junior and Nobel 1.0 SLA 3D printer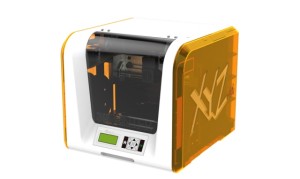 XYZPrinting displayed affordable 3D printers range at the CES 2015: the FFF da Vinci Junior and the Nobel 1.0 SLA 3D printer. The da Vinci junior 3D printer is one of the most affordable 3D printers with a price tag of $349 while Nobel 1.0 SLA 3D printer is on a slightly higher end at $1499. These 3D printers are touted to be game changers in 3D printing as they will significantly increase the accessibility at a mass level for enthusiasts, developers and educators. The da Vinci Junior is a non-complicated 3D printing device and requires no assembly. It allows users to scan, edit and print with auto-load Fused Filament Fabrication cartridges at an eco-friendly 75W power usage. The da Vinci junior offers a layer resolution of 0.1mm. While the printer weighs 26 pounds the maximum creation size offered is 5.9" x 5.9" x 5.9".  The da Vinci is compatible with Windows XP, Windows 7 or higher and Mac OS X 10.7+. It is definitely a 3D printer which will please beginners and low-budget enthusiasts.
For enthusiasts with a higher end budget, XYZprinting launched the Nobel 1.0 SLA printer. The Nobel 1.0 is a compact printer weighing merely 20 pounds with a maximum creation size of 5" x 5" x 7.9". It runs on mere 60W power. The Nobel utilizes Photopolymer resin to print Stereolithographic images with a layer resolution of 25 microns. The device features an auto filling Resin supply with a capacity of 500ml, eliminating problems of constant refills. The Nobel is compatible with Windows 7 or higher and Mac OS X 10.8.
We had a lot of fun at CES 2015. Can't wait for the 2016 edition!
Are you eyeing a purchasing spree on any of these 5 Gadgets? Do tell us in comments of what all you enjoyed in 2015 CES!