CHCECE010 Support the holistic development of children in early childhood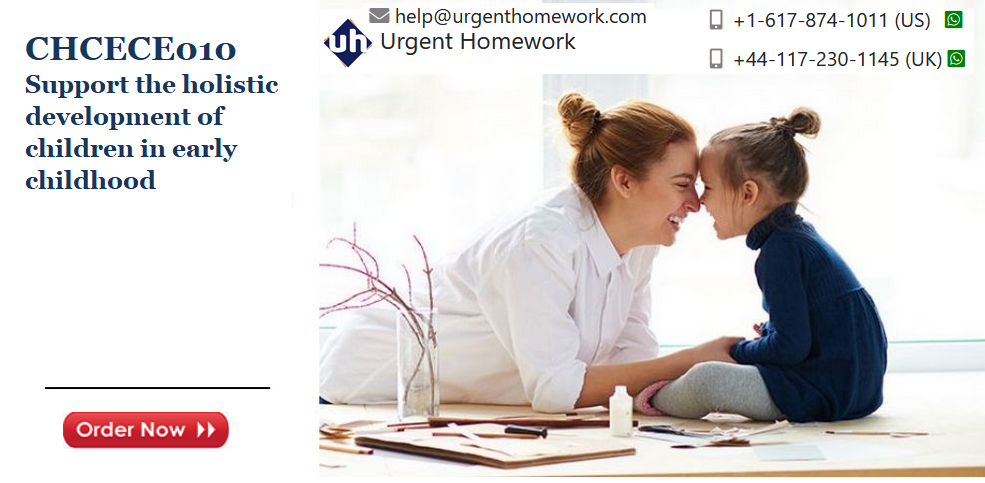 Support physical development
Support social development
Support emotional development
Support cognitive development
Support communication development
Create an environment for holistic learning and development
Application
This unit describes the skills and knowledge to support and recognise the interrelationship between the physical, social, emotional, cognitive and communication development of children from birth to 6 years of age. 
This unit applies to educators working in a range of early childhood education and care services.
Performance Evidence
The candidate must show evidence of the ability to complete tasks outlined in elements and performance criteria of this unit, manage tasks and manage contingencies in the context of the job role. There must be demonstrated evidence that the candidate has completed the following tasks at least once: 
supported the development of children in at least three different situations/activities (including different age groups and abilities), including:
interacting with children to holistically support development and learning appropriate to the child's abilities and age
providing a variety of experiences and environments to support the different areas of children's development (including a combination of physical, creative, social, emotional , language and cognitive)
performed the activities outlined in the performance criteria of this unit during a period of at least 120 hours of work in at least one regulated education and care service.
Knowledge Evidence
The candidate must be able to demonstrate essential knowledge required to effectively do the task outlined in elements and performance criteria of this unit, manage the task and manage contingencies in the context of the work role. These include knowledge of:
code of ethics
United Nations Convention on the Rights of the Child
how to access:
the National Quality Framework
the National Quality Standards
the relevant approved learning framework
and how to navigate through framework and standards documents to find areas relevant to this unit of competency
introductory-level child development for children, including:
early brain development
importance of the early years for subsequent educational success
foundational knowledge of developmental theory
aspects of poor early childhood development, such as:
poor diet
lack of play
limited stimulation of brain development
lack of materials and resources
inconsistent or non-existent emotional support or comfort
trauma
other life experiences which interrupt appropriate childhood activities, and their potential long-term harmful impacts
biological and environmental influences on development
symbol systems including letters, numbers, time, money and musical notation.
Get the best CHCECE010 Support the holistic development of children in early childhood answers by the Urgenthomework. We have the best experts for CHCECE010 assessment answers