It's Monday tomorrow. Oh, crap, you still didn't do your English assignment?  You must be worried how to dodge the teacher with the best excuse or to get someone to write a marvelous piece of literature for you. But how far can you get with it?
Will you keep making excuses every time?
No! You should not.
Writing is an art. Each word you write is a reflection of your thoughts on the paper. And how you express them is a way to express yourself. And when you are asked to show up your skills for a given project, it just starts to stress you down. Essay Writing is not some rocket science, just using your skills in a smart and organized manner.
Essay writing is an important part of our academic years. Whether we are kids, undergraduates or doing masters, we always have to write essays or reports of some kind about the knowledge or observation achieved so far. Thus, it is important to polish your skills at this. And moreover, you realize that the more you grow up, the lesser the time you get for your essay assignments and in fact the number of research efforts you need to put in increases. How lucky were those good old days, when you got almost a week to write an essay on easy topics?
Now it seems that you just have to scribble down your best in a matter of few hours, and it should be an A-grade quality impressive too. So, ready to begin?
Here are the tips to write your essay well, whether it is 100 words, 500 or 1,000. You won't be scared of the word limit once you start following these tips.

Surround yourself with the right environment
That is essential. We do not realize the impact of the surroundings on ourselves, but it casts a huge impact. Choose a peaceful area to work, away from all the noises which drag you with them. Create a mood around you where you are motivated to work so that the ideas can be written down in the best way.
A library is the best place, to begin with. The silence and the books are a great option to be in with. A calm place is required for writing, so that you can hear your own thoughts, waiting to be expressed in words. And when you are going to be evaluated for it, then better you gear up in every way to achieve the best!
Make an effective plan
Planning is really important when it comes to doing any task.  Any mind-boggling task or the toughest of the projects can be solved with a smart and effective plan. And the same is true for writing too.
Before beginning the essay, think of the following topics and how to consider them while writing your essay:-
Word limit
Target group
Major issues and topics to be covered
Examples of the topics
Suggestions and recommendations
These are the key areas which you will be covering while writing your essay, and must be explained in a good manner. Hence, sit for a while and think about them first before beginning with the essay.
For example, you've got to write a 1,000 words essay on the current water scarcity issues in the world and submit it by tomorrow. With so many ideas flushing down your head, you can simply start preparing up to write by breaking down your essay into subparts, which discuss the following issues:-
Reasons for water scarcity across the world
Regions worst affected due to water scarcity
Current steps being taken to cure it
The aftermath if similar situations continue
See, it sounds easier now, right? Your ideas will get organized if you do so.
Shut out the world
Yes, please! Ditch that phone, or just put it in silent mode. Log out of all the social websites and then get, set, go! As I told earlier, calmness is required to hear your own thoughts. And to do so, you need to stay away from other people's conversations too. This gives you the right mood to focus on your own work and do your best.
Do research for your essay
Yes, that is important. You can't just write a fictitious article all the time! You need facts and relevant data to rely upon. This should be done thoroughly before beginning to write so that you understand the topic well and the thoughts would generate continuously while writing.
And when you start pinning them down and you need help, go back to the reference material and take help. The reference gives you the right direction to go, and the facts are real too. Hence, use such matter to make the best benefits out of it.
Set realistic goals
Do not aim to write a wonderful piece of your thoughts in just 20 minutes. No, don't even think to do that. You might just end up getting screwed by your teacher. Aim for targets that are realistic and can be achieved by you. You know the best and the worst about yourself, so bring it to use.
Plan for a short break or two in between, decide for which topics you need to refer study material and which ones you can write well on your own. This way, create a rough outline of the time you will be spending on writing.
Begin with the heading
That is the first part which can make or break you!  A headline is the first opening line to the reader which tells about the article. Hence, it should be to-the-point and not very lengthy. A gist of the article should be wrapped around smartly in few words for a heading.
If required, a sub-heading may also be given, if you feel that there is more to be included in your headline section. The headline should be attention-grabbing and able to give an idea about the content of the article.
Some of the examples for an effective headline are as follows:-
Using case studies as an online tool for organizational managers
Is your child a gifted athlete?
Current water scarcity scenarios in the world
Notice that each of the headlines is complete in them and gives an idea of what the article would be.
The smart introduction
It may seem that introduction is the hardest part to write but is also the most important part of the essay. An introduction is the first section of your essay, giving a brief about the topics discussed in the article. It should be to-the-point and complete in itself. Examples or criticisms is not included in an introduction, keep that in mind.
Go with the flow
Once you begin with the main content of the essay after the introduction, let your thoughts crawl out of your head and find a place through your words. Don't judge what you are writing, just keep writing, writing and writing. Once you tune in to the right rhythm of interpreting your ideas in form of words, you should never stop. There should be absolutely no distraction in this process.
There may occur spelling mistakes, grammar mistakes or you may have done some error in page layout, but leave it for later. Whatever is in your head, it should be written down first.
Conclusion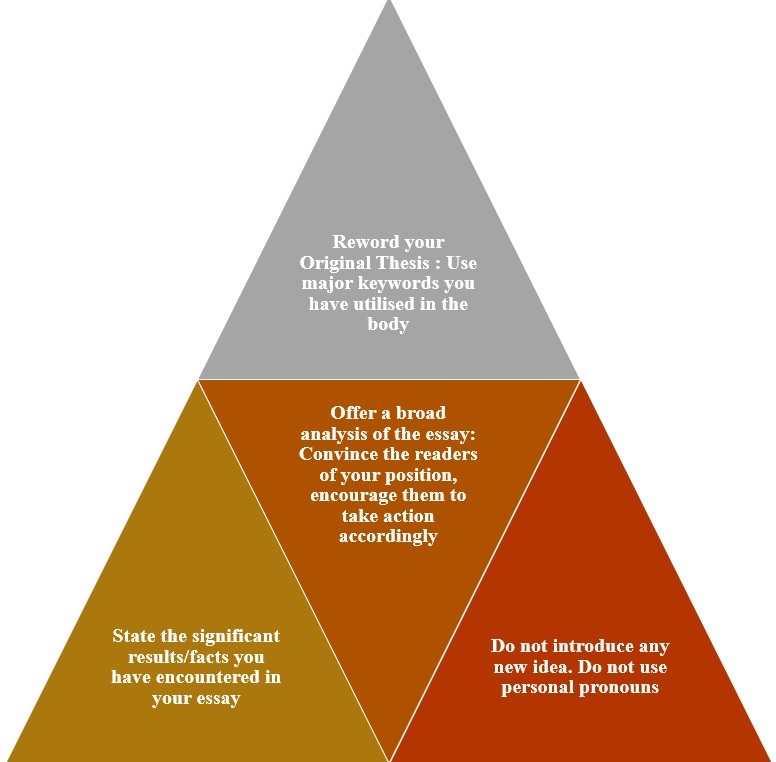 And that's the place where you end up the flow of your thoughts. All the points should have been discussed, the facts been agreed or been criticized and information displayed properly before your conclusion.
Suggestions can be included in a conclusion, regarding what changes or ideas you can suggest from your side. Also, if you feel that some topic was irrelevant or not up to the mark, it can be mentioned in the conclusion. From the research and the essay written, the things you understood and learned can be explained in the conclusion. Thus, a conclusion is the end part of your essay.
As heard earlier, the first and the last part of any presentation are the peak points that make an impression on people's minds. Just as the introduction is required to be crisp and impressive, so id the requirement for the conclusion too.
The final step- editing
The most crucial one! To avoid someone else pointing out your flaws, dig them out yourself. Editing is even more important when you have written your essay all in a continuous flow when you do not judge how you are writing, what you are writing. You were just writing. And now, it is the time to polish it out and give it a perfect look.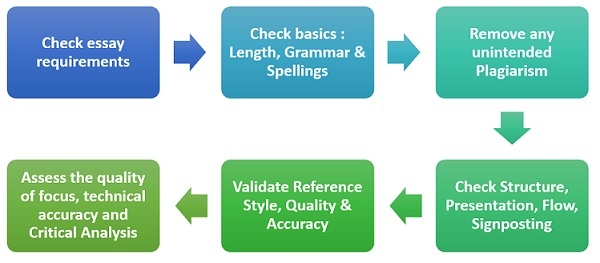 Take help of spell check and correct all your spellings. If you feel there is not much new terminology in your essay, check out the suggestions in a thesaurus for synonyms. But keep in mind that the synonyms too should be simple ones which are used in regular speech. Erase off the lines which you feel are unnecessary and add the facts that you've jumped, but you think that they are important.
Also, correct the flow of your thoughts while editing. That is also an important step. The process should be organized systematically, explaining the process or a problem step by step. The normal flow of a procedure or problem is as follows:-
Introduction
Current scenario
Causes
Prevention
Conclusion and Recommendations
The information should be organized in a similar manner so as to explain everything properly.
Once you are done with editing all the way, give final reading to your essay, just to make sure that everything is in order and makes sense.
The art of writing can be mastered only by writing fluently. Do not hesitate to make mistakes, for it is the mistakes that give us lessons. The key is to explain your ideas in the best way possible and to polish your skills. This way, not only you will score well in your evaluation, but also learn the art of expressing yourself through writing.