International Economics Homework Help
Economics is the social study which understands the workings of the world economy. An economy is something that no one can understand and work it totally. We are all a part of the economy, we all buy and sell things daily, but we cannot predict and understand the economy as a whole.
International economics are the activities which affect the relationship between countries in relation to its productive resources and consumer preferences. This affects the international institutions as well. The economy of any country comprises of three categories: primary, secondary and tertiary. Change in any one of them will lead to changes in all three of them. It deals with all the transactions and trade, exchanges, money or investments and also migration.
it's becoming a major international mark where everyone is getting connected with everyone and our world though divided by boundaries but is united because of business. Everyone is now realizing that not only we get affected by the things that happen in our locality, but the events occurring outside our locality or states or country also affects us. No country is self-sufficient and it has to depend on the other one to fulfil its own country's needs. Because of these demands every country has open economy and keeps a relation with another country. it's important as each country has some strengths and some weaknesses and each one depends upon one another to cover up their weaknesses.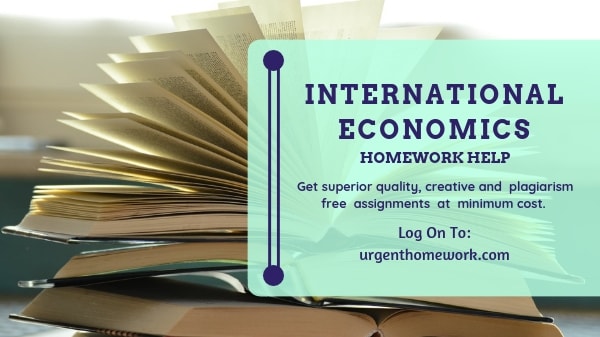 Today anyone can go to their locality shops and buy any product from a different country. The local business have to compete with these foreign companies. Just as foreign companies come to one country, the local business with enough funds or investments can have his/her business outside the country. The advancement of telecommunication has led to reduction of cost for providing services outside the country. There is Internet, which has opened up new world for business called E-Business.
The best way to look at the advancement in international economics is to look at the amount of trade done (exports) over the past fifty years. Figure shows the overall annual exports measured in billions of U.S. dollars from 1948 to 2008. If one country exports more, then the other country imports and exporting more means more revenue, which will lead to advancement and development of the country. You can see a tremendous growth in the exports and imports during the past fifty years.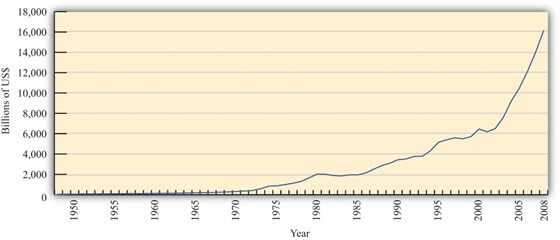 International economy is broadly divided into two categories of International trade which deals in microeconomic analysis and other one is international finance which is a part of macroeconomic analysis.
International trade: International trade deals with all the imports and exports all over the world. What comes from which country? Where does it come? Who imported? Who exported? How much? It observes the effects on an individual or micro level the trade has on the world economy or on the world market constituting of all the local business, product manufacturing, small-scale industries, big industries, even the value of the money changes, inflation and deflation or dropping of the Sensex.
International finance: This examines the effects of financial flows between countries. It looks at the effect on a much larger level, or better say, it observes the world economy on a whole level. It keeps an eye on the money or any other trade flows on the balance of payments and the exchange rate. It also keeps a track and thinks of ways the different exchange rates will have an effect on the economy and decides the appropriate role of international institutions such as the International Monetary Fund (IMF). It also checks whether any country is surplus or deficit in its exports or imports and finances. If a country is in deficit, the IMF provides the country with funds to carry out their trade and survive in the world market.
Migration: It is often thought that it's good to have skilled workers who are migrated from different countries or parts from their own country to another part of their country. But it's not, the migration of skilled workers from one place to another helps in developing the place to which migration took place. But it does not do the same thing to the place from the migrant came. Migrants go to other places seeking for job and get one with good money. Then they don't come back to their own place as it digs a big hole in their pockets as the money is little from where they came. Better payment fulfils the need of any individual. But it leaves a depressive mark on the place from the individual comes. Developing countries stop or develop more and more slowly with all their young or skilled workers go to another country in search of better jobs and facilities.
Globalization: Globalization means the world having an open economy and is attached with entire world economy. However, increased globalization has led to increase in the risk of recession. A reduction in economic activity of one country can lead to a reduction in activity in its trading partners as a result of its gradual reduction in demand for their exports, which is one way of determining the business cycle of one country to country. According to the research of the world economists, the more the trade relations such as imports and exports (but more of exports) between the countries, the better the demand of the country and thus, better development of the country.
Economy is a wonderful subject which if concentrated properly can be easily understood. But, if you are not able to understand then feel free to take help from our well trained teachers and professionals who will guide you throughout the subject. So, for more international economy and its explanation visit www.urgenthomework.com and also for other economic assignments. In case you need any urgent homework done please visit our site and take the required help. Our team works really hard to provide you with all information possible. We have motivating faculty which is available for helping you and solving your queries. We try to complete your assignments before time and try to give the best results which can help you score well. We hope we satisfy you with our work and you get all help required for your assignments. You can visit our site urgenthomework.com and have a look at our other sample assignments as well.
Important topics in Economics
Classical theory
Depression and unemployment
Development Economics
Economic thought
Managerial Economics
Public Economics