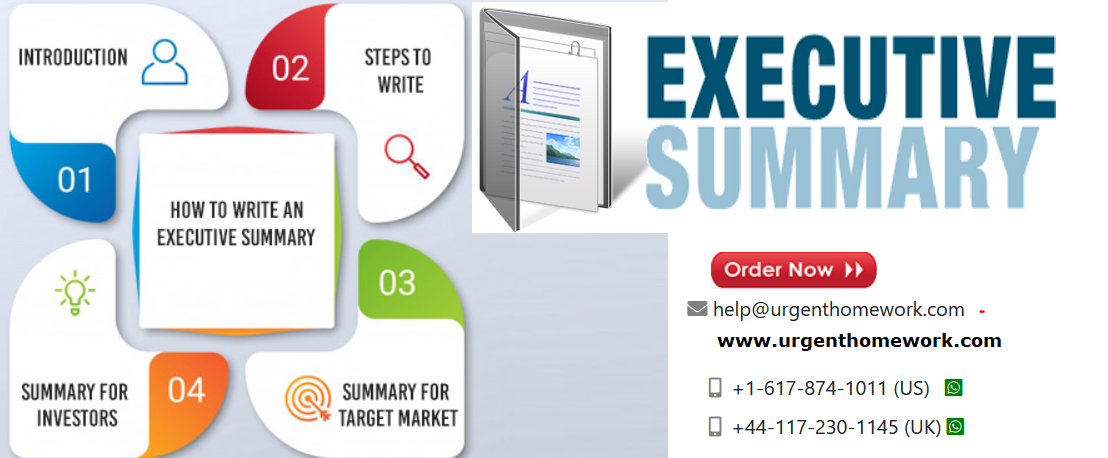 During your academic education, you might be assigned numerous assignments, for example, management reports, in which you need to write an executive summary. But first, let's dive into what exactly an executive summary is. This term is that particular section that summarises the complete report, allowing your professor to understand what the report is about.
For instance, a 25-page business report can begin with a one-page executive summary. It includes the most important points from the conclusion, findings, recommendations, and other sections of the massive report. Our assignment help experts suggest that an executive summary should be written in a way that your readers can have an understanding of the complete assignment.
Format of an Executive Summary
As stated earlier, the aim behind writing an executive summary is to provide the best understanding of the assignment to your professor. Therefore, it should be straight to the point and precise. Generally, the executive summary is written on a new page and should not exceed it. The format of an executive summary is comprised of the following:
The subject is mainly the introduction of the assignment.
Analysis and Methods represent to the methods you have used and your analysis.
Findings include data results.
Conclusion – solutions to the problems discussed in the assignment.
Recommendations – proposed recommendations to overcome the problem.
Limitations – mention the limitations of the project you have selected.
Good and poor examples of executive summaries
This is a GOOD example from an Accounting & Finance assignment.
Executive Summary

This report provides an analysis and evaluation of the current and prospective profitability, liquidity and financial stability of Outdoor Equipment Ltd. Methods of analysis include trend, horizontal and vertical analyses as well as ratios such as Debt, Current and Quick ratios. Other calculations include rates of return on Shareholders Equity and Total Assets and earnings per share to name a few. All calculations can be found in the appendices. Results of data analysed show that all ratios are below industry averages. In particular, comparative performance is poor in the areas of profit margins, liquidity, credit control, and inventory management.

The report finds the prospects of the company in its current position are not positive. The major areas of weakness require further investigation and remedial action by management. Recommendations discussed include:
improving the average collection period for accounts receivable·
improving/increasing inventory turnover·
reducing prepayments and perhaps increasing inventory levels

The report also investigates the fact that the analysis conducted has limitations. Some of the limitations include:
forecasting figures are not provided nature and type of company is not known nor the current economic conditions data limitations as not enough information is provided or enough detail i.e. monthly details not known results are based on past performances not present



subject matter



methods of analysis






Findings






Conclusions




Recommendations (note that conclusions and recommendations can be bulleted)




Limitations of the report.
Excerpt from Woodward-Kron, R. (1997) Writing in Commerce: a guide to assist Commerce students with assignment writing, (Revised edition), Centre for the Advancement of Teaching and Learning, The University of Newcastle.
Basics of Executive Summaries
Executive summaries are common in the Walden MBA program, but they are also found as part of some government and business documents. As a student, you should complete an executive summary when specifically requested to do so. An executive summary is a comprehensive review of a larger document. For example, a 35-page report may begin with a single-page executive summary all of the main information in the longer report. Any findings, conclusions, recommendations, or other details that appear in the larger document must be touched on in the executive summary. Readers should be able to read the executive summary alone and have a complete understanding of the larger document in its entirety.
Executive Summary Versus Abstract
Like an executive summary, an abstract is a short summary of a larger text. Both executive summaries and abstracts are meant to capture the main ideas, findings, and conclusions of a longer document.  Executive summaries, however, tend to include more details than abstracts. An abstract includes enough information for readers to decide if they want to read the full-length document. Executive summaries must include enough information for readers to understand the full-length document without reading it.
Another difference between executive summaries and abstracts are the fields where they are used. Generally, executive summaries are common in business and government, while abstracts are more common in academia and at Walden, especially when seeking publication in a professional journal.
Steps for Writing an Executive summary for a Report
An academic write-up such as a report, is a long document that comprises of large sections pertaining to a topic. To help a reader easily understand it in a short and accurate manner, an executive summary is written to deliver the same purpose. But how do you draft a perfect summary that keeps him interested in studying it until the end? To answer this question, we have listed a few steps that have successfully guided hundreds of students in writing their business report executive summary. These steps together become a universally acceptable format of your summary:
Start with the subject matter and define – for what purpose you are writing this report. You can also write what it provides a reader with apart from its purpose. An essential way to start a summary is to brief about its background about the problem.
Methods of analysis: In this part, you will talk about the most appropriate methods that have been used in the analysis of your report. There can be more than one method, but they all must aim towards a report's goals.
Findings: Next, you will show a few key findings from your analysis. Try not to copy them straight from its main body. Simply paraphrase them in a condensed form. You will understand this better after reading the Executive summary template provided below.
Problem solution: In the previous section, you must have found out various challenges and problems to your topic. So, to address them, you will define few appropriate measures and solutions to counter those concerns.
Recommendations and Conclusions: The second last part of your summary shall include a writer's point of view of his recommendations apart from the problem solution. You are free to write anything, provided that they are relevant to the problem.
Limitations: You can end an executive summary with recommendations and conclusions. But some students also prefer to add a few limitations of their report at the end of their summary. Just three to five lines will prove sufficient for this section.
Sample Example of Executive summary