Mobile devices such as smartphones and tablets are increasingly gaining popularity as learning devices for students. The app market for these mobile devices is flooded with education based apps such as homework planners, coursework and study notes organizers, e-books and learning material providers, dictionary, encyclopedia and many more for utilizing mobile devices for educational purposes. In the light of a recent research, 85% of Americans ages 18-29 are smartphone owners as are 78% of college graduates. Of the same age group, 44% have consumed educational content on their phone. However, a newer domain that has recently picked up with teens is that of virtual mobile assistants. Voice commands and virtual assistants on mobile devices are shaping up the learning habits of millennials providing instant gratification to their anytime, anywhere curiosities.
Voice Recognition Apps and Voice-Search Habits
With the advent of Siri in iPhone 4s, most smartphones and tablets with the latest operating systems are coming with an inbuilt voice command feature. So there is Siri for iOS while the new Android devices running KitKat and after has access to Ok Google!. Microsoft will soon be joining the trend with their recent announcement that Cortana, their Windows Phone virtual assistant, will soon be available for desktops and laptops running Windows 10. News of Siri arriving on Mac PCs and laptops are spreading fast on iOS rumor forums.
In a study commissioned by Google on voice search habits it was found that 55 percent of teens between the ages of 13 and 17 use voice search at least twice every day while for those above 18, the number was 41 percent. Among the top six functions of voice assistants for teens, getting help with homework ranked second, losing the top spot to making a call.
Gen Y students are keen on using and owning the newest technologies on the market, such as wearables, which offer a more engaging way to consume online data and information. For example, instead of typing their queries to search for learning materials, it is easier and more tech-savvy to provide an authoritative command to Ok Google! (i.e "Ok, Google! Search the best eLearning websites for Math.") or other voice recognising assistants in one's smartphones, tablet, smartwatch or other wearable techs. However. this is just the tip of an iceberg. With more and smarter devices and wearable technology plunging into the market and an ever increasing number of voice-recognizing assistants on mobile devices, the user statistics are definitely northbound.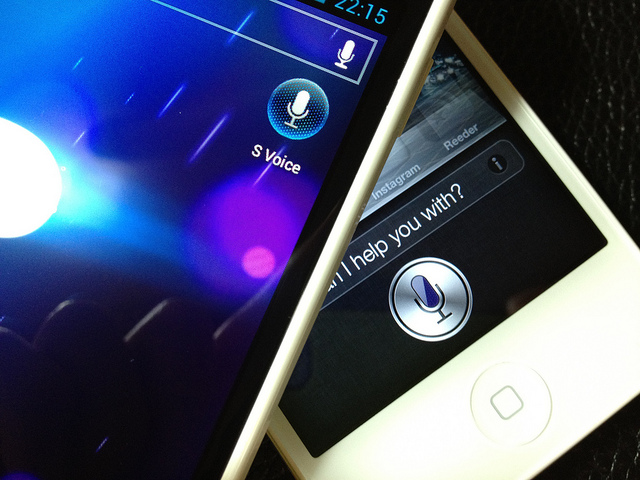 Benefits of Voice Recognition based Mobile Assistants to Learners
While for most teens, voice search means more fun and tech-savvy way to get answers for their queries, there are certain demographics of learners for whom voice-text and text to voice software-based virtual mobile assistants in mobile devices can truly revolutionize learning. Such voice recognition virtual assistant apps can be a boon for students with special needs and those with learning disabilities. Here are some ways on how every student can effectively use voice recognition software-based mobile assistants such as Siri, Ok Google, or Cortana for learning and educational purposes:
Speaking tests and dictating oral essays: Especially for learners who find it difficult to type, struggle with reading and languages or are visually impaired, it becomes easier to simply dictate your answers and essay to speech to the text-based voice recognizing assistants and let them type it for you and type it faster. The word prediction technology also enhances learners' vocabulary and improves their writing expression.
A quick search of references and educational content online: Most virtual mobile assistants are able to crawl Wikipedia, dictionaries and online databases such as Wolfram Alpha to tell you the meaning of unknown words, synonyms, antonyms, word usage, or any other way, what, how related educational and learning query.
Record class discussions for after school hour review: For students who find it difficult to keep pace in class with their teachers' discussion, the virtual mobile assistants can record the class lectures or even take notes for them to review later at home.
Reading Difficulty: Voice recognition apps can also convert text to speech and thus read out loud the e-books (or iBooks) for students who find it difficult to read. With supportive optical character recognition programs, written materials, notes, handouts can also be uploaded on the mobile devices to enable virtual assistants to convert normal books to audiobooks. There are also options of highlighting text to enable readers to track words while listening to audio output.
Collaborating with other students: Voice command apps can enable students with special needs and learning disabilities to collaborate over work with other students easily. Mobile-based Voice assistants would enable students to send emails, share documents and images as well as make audio and video call with each other and their teachers without any trouble.
Setting reminding to reinforce learning: Voice assistants can be easily programmed to set reminders based on time, date and location. So next time students can simply ask their virtual assistant to remind them definitions, factual knowledge, formulas, important historical dates, names and places periodically. This will help to reinforce their knowledge and learning.
Language Learners: Voice recognition assistants can be used to easily translate foreign words, phrases, and sentences and to look up the meaning of new words and their usage. This makes it easier for language learners to enrich their vocabulary as well as to learn the correct pronunciation of words.
Fast mathematical computation: For students who struggle with Math and numbers, virtual assistants can easily compute numbers and carry out all mathematical operations such as finding percentages, multiplying large numbers and even search online help for tougher mathematical concepts of algebra and calculus. Various virtual assistants can also convert into speaking calculators to help students with attention deficits to copy mathematical calculations comfortably.
Organize and plan homework, projects and exams: Virtual assistants service on mobiles can easily record and list homework and study schedules, book class test and examination dates, send periodic reminders for important submission dates and notify about approaching deadlines.
Remove distractions related to Self-Search: The most beneficial aspects of voice recognition based virtual assistants is that they are free from extra distractions that would otherwise accompany a traditional book or online search. Students can also conduct a quick google search for their queries but it is likely that they will be distracted by less than direct answers, too-many response tabs, social media updates or emails. All this would be equal to a lot of time lost for finding a small answer. Even in searching for books, it is possible that students waste their time off-desk. Thus with getting a straightforward reply from a virtual assistant on mobile devices, students are more likely to finish off their work faster without loosing study time on online or at home distractions.
Without a doubt, a lot of people still have apprehensions about using voice command features or even mobile devices for learning, especially for young learners. Parents and educators alike must always remind students of how to smartly and responsibly use their mobile devices for learning. Some of the common apprehensions in using voice commands and mobile devices include the possible encouragement of cheating, privacy issues, and further inhibiting learning.
Top 4 Recommendations for Virtual Command Apps for Learning
Apart from the built-in voice command features on mobile devices, there are apps that you can install on your smartphone and/or tablet that work as a virtual assistant. Here are some of our suggested apps for your iOS and Android devices:
• Assistant.ai – This virtual assistant mobile application is able to help with launching other apps, search information and news online, check the weather report, access and send email, calls logs, and text messages as well as notify about upcoming events. It can also store your preferences to customize your experience accordingly. Instead of a complex set of commands, it is able to understand the natural language in English, Spanish, Russian, German, Portuguese, Chinese, French, Korean and Japanese.
• AskWiki-Voice Recognition – This is a voice recognition app that can search the information available on Wikipedia Website. By tapping the microphone button, you can speak the keywords to be searched in the box for automatic search from Wiki's large collection of information and the app will read out the answer for the same to you. This is the best way to get answers for definitions, correct spellings and factual queries such as what, when, how, where who on topics of Science, Math, Technology, English, History, Arts and even Geography
• Skyvi – similar to Siri, this app is able to connect with its users as it is able to make a witty remark as well as to tell jokes upon your request. It comes with Facebook and Twitter integration, reading your status and comments from friends. Skyvi cannot make calls and send text messages, but it can make quick Google/Safari searches, give directions, and make reminders.
• Jeannie – more conversational than any other voice command apps, Jeannie performs various kinds of tasks from initiating calls, searching the web using different browsers, accessing apps to answer queries in several languages by text.  Jeannie is also able to search databases such as Wolfram Alpha and even conducts trivia based searches of simple what, who, when, how much-based queries.
Mobile devices and their built-in smart features will continue to evolve and change the face of education. Soon, as smartphones and other technologies become more integrated to humans through wearable devices, we should expect learners to be equipped with fast and reliable learning sources as well as assistive technology.
How do you expect virtual assistants and voice recognition apps like Siri to change your learning experience in the future? Are you using assistive technologies to study/learn/teach? Share your experience with us in comments.
Urgent Homework admin is thankful to Teacher JVB for her inputs.