If you have a young child in preschool age at home, you're probably already looking to enhance their preschool readiness(or kindergarten readiness, if they mean the same in your country). It can be a challenging task to get your preschool kids comfortable with the idea of leaving the comfort and security of their home and attend school. If the children are not prepared for preschool in a proper manner, they can often develop separation anxiety and might even resent going to school. This blog post lists fun and engaging activities for toddlers to prepare a toddler for preschool. All these activities for preschool kids can be done by their families at home which will help your beloved toddler to smoothly take this big step in schooling and education.
Reading with Kids
Reading is an essential part of children's education. Parents of toddlers need to devise effective toddler reading strategies to give their kids a jumpstart on it. If your kids develop regular reading habits early on then they are more likely to develop sound reading comprehension abilities and be able to follow through the class lessons with the teachers. This is highly critical for their overall academic success as students who can conveniently follow through their teachers' instructions are more likely to be successful and achieve a higher grade later on. Include the following in your reading strategies for preparing toddlers :
Use your finger to point to the words as you read.
Point to the pictures and name them, later point to the pictures and ask your child what they are (supply the word if they don't know). Toddlers respond better to visuals.
Buy kids books such as Roald Dahl Books, or baby books with stories for kids, children books with short stories for kids and other kindergarten books with vivid images, visuals, colors and cartoons. Let the toddler handle the books by themselves to turn the pages, look at the pictures and "pretend" to read(by running along their own finger undertext). You can also read books for kids online if your kids are more tech-savvy.
Start a bedtime reading tradition with bedtime children stories' books. Let your child pick the book and turn the pages while you read to them. This is a great activity to get them to settle down for the night and help instill in them a natural love of reading.
Letters and Numbers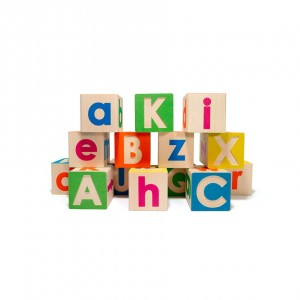 We've all seen the wooden block letters, magnetic foam letters and numbers you can put on your fridge (if you don't have them already). Make use of them by using these methods:
Sing the ABC song to your child and have them recite it with you.
Use magnetic letters and numbers for preschool age kids to play with your toddler. Tell them what the alphabet letter or number is and later on ask them back what is this letter or number.
Start by simple games such as 'show me the alphabet' or ask your toddler to count the number of something from a given image.
For more creative activities with toddlers, you can make beautiful wooden block letters and numbers at home with your children.
If you want to step up the game a bit more, start by spelling out simple three letter words such as "cat" or "dog" or even child's name.
Counting Games
Everything is game for being counted! Counting games for Toddlers are not only a perfect way to teach students counting but also of arithmetic skills such as approximations and comparisons along with the skills of recognition and differentiation. Start with how many cars do you see in the parking lot, make it more challenging for the kids with how many red cars do you see in a parking lot. Make a habit of counting everyday items so your toddler develops excellent counting and estimation skills. You can also try the following counting games for kids:
Count your child's fingers and toes aloud and with your child. Ask them how many eyes they have, how many ears, how many tongues they have, how many teeth they have etc.
Count snacks like goldfish or animal crackers when you give them a snack. Or fill two containers with snacks and treats like gummy bears and ask them which has more! You can also teach kids to differentiate variously colored snacks jelly beans
 Play online counting games for kids such as Curious George count your chicken game or flower garden.
Get books that are about counting songs such as 10 Little Indians or Angels from the library or bookstore.
Toddlers should also be taught to count money.
Buy an Abacus to teach kids counting and arithmetic skills or you can make an abacus at home with some strays, clay and beads. Ask kids to count and put a correct number of beads through the straw as you tell them to.
Learning Applications
A recent study on babies' mobile use found that by age 2 children may spend an hour or more a day on mobile phones and tablets. Parents of preschool age toddlers can productively translate this screen time into a fun learning way. There are many learning based mobile applications especially targeted towards preschool age kids. Take advantage of the software and apps available and help your child prepare for preschool in a playful way!
1. Download kid-friendly learning apps on your mobile and tablets. So when the toddler is scrolling through the screen they can find attractive knowledge enhancing and learning games. They have all sorts of games and applications for teaching skills in science, literacy, reading, creativity, everyday math, music, songs and rhymes, audio stories and picture games.
2. If you are concerned about letting your toddler play on an actual laptop or mobile device, then you can get them their own toy devices. LeapFrog makes electronic educational toys for toddlers such as LeapFrog My Own Leaptop, LeapFrog Alpha Zoo Spinner, LeapFrog Factory Phonics and Number and various others. There are many more such electronic learning computers and tablet games out there as well.
Music Activities for Kids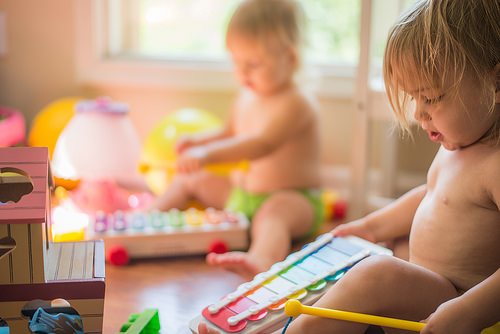 Music is an important early learning contributor to a toddler's life. No wonder kids are taught counting, alphabets, sound varieties and much more through rhymes, poems, lullabies and jingles. Getting tired of the same Barney songs? Check out these alternative baby songs and baby music sources:
1. You can sing songs to and with your children like the ABC song and Bingo. Also, tap your feet to the rhythm with your toddlers on their favorite song, teach them some coordinated moves and prepare a little dance performance. Not only will this improve the toddler's motor skills and coordination but ready for them a little gig up their sleeves to perform and earn claps and praises.
2. Purchase baby songs CD's that can be played at home or in the car from the library or book store. Encourage toddlers to create rhythmic movements and sounds for their stuff toys.
3. YouTube had toddler song videos and rhymes for kids to watch and enjoy.
And don't worry about your notes, kids love it when their mom and dad sing to them. 
Educational TV Shows for Kids
In a recent report, it was found that children can learn from educational media content shown on TV. Television programs designed with a specific goal to teach academic or social skills can be effective with potentially long-lasting effects. The same report in fact documented that Preschoolers who view Sesame Street have higher levels of school readiness than those who do not. It is up to the parents to capitalize on the TV time and be cautious about exposing their preschool age toddlers to educational media content instead of entertainment and violence based Tv programs and videos. Turn on any of these educational TV shows for preschool age kids so they can be actively learning:
1. There are educational shows on PBS, PBS kids, and Disney Junior such as Sesame Street, Dora the Explorer, Clifford the Big Red Dog, Timmy Time, Kipper, Bubble Guppies and many more.
2. There are educational videos you can get at the library or bookstore including LeapFrog videos and Sesame Street. YouTube also has many educational programs that have now gone off-air. So you can stir a cup of hot cocoa and relive your own childhood days, co-viewing these with your kids.
3. You can even stream age-appropriate shows for preschool age kids on Netflix.
These are great for the rest time or a rainy day.
Social Learning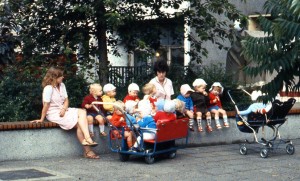 In the end, don't underestimate the power of play because all work and no play makes Jack a dull boy.
1. Invite other toddlers over to play so the children can practice sharing and taking turns
2. Meet with other toddlers to play at a park/playground
3. Take a class like tumbling with playmates
4. Go to other child-friendly places with playmates like children's museums, story time at the library, or the bookstore.
5. Kids can also stay indoors and do creative arts and crafts stuff such as hand-painting, thumb painting, ladyfinger prints, block printing and much more.
There are tons of things that you can do and probably do already to help prepare your child for those first few months at preschool. What do you do with your child? Share in the comments!
Aubrey Moulton is a writer for discoverytreeacademy.com, a leading provider in a safe, secure and fun Preschool for children in Utah County!