Letter Writing Guide
Letter writing was one of the most important ways of communication in the past and yet it can be still seen in most of the official communication channels. Letter writing is one of the most important soft skills required to succeed in any field, Though letter writing is taught to students from very early classes, students cannot gather all information about the writing skills at such a young age. The tone of letter writing depends on the type of letter that is being written, It has been seen that almost 90% of students know the format of almost all types of the letter but are poor in the tone of the writing of the letter. Let us know more about letters:
Personal Letter Format: The Elements
The format of a personal letter contains the following elements.
Sender Full name and address
Recipient Full name and address
Salutation (Mr/Mrs etc)
A subject line of Letter
An introductory paragraph
Body paragraphs for Letter
A concluding paragraph
A signing-off note
First name of the sender
A Sample of Personal Letter Format is given below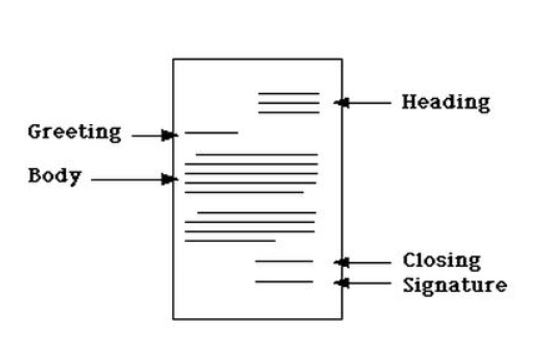 Types of letters:
Formal Letter: Formal letters are very much stick on their tone, format, and language. These letters are generally written in any type of business, governmental letters as well as for general official letters. These types of letters are still in use and are widely used in various organizations. Also, it will be in use for many years to come.
Informal Letter: Informal letters are letters that are generally sent to exchange personal information. These types of letters generally have informal language and the format is way different from the formal letters. The tone of the language generally depends on the mood of the writer and generally changes from person to person. In recent times there has been a decline in writing informal letters because of the use of mobile phones.
Business Letter: Business letters are generally written to communicate the various needs of the quotation, tender of any work, or any commercial information letter. These letters have strict language tones and have a predefined format too.
Official Letter: Official letters are the letters which are generally inter-company information letters sent to the branch of a company containing information about a specific branch or for all branches. The language tone is strictly formal and also the format is predefined.
Social Letter: Social letters are letters sent to any person as the information given by a group of people. These letters are generally written on specific events and are generally letters of congratulation, condolence, etc. The language is soothing and also the format is predefined.
Circular Letter: Circular letters are letters that are sent to a group of people to convey a singular message. It is generally sent to inform a group of people if any law or rule has been changed by any organization. Circular letters are generally used by all governmental organizations.
Employment Letter: As the name suggests employment letters are generally sent to particular individual letters who have been selected, promoted, or demoted by any organization. These letters have a formal toned letter and also the format is predefined. The letters of employment, letter of transfer, letter of promotion are examples of employment letters.
What to choose us for Personal Letter Writing and Formats?
If u want to get help writing a flawless letter to earn the praise of your reader you have come to the right place. It is a very well-known fact that any mistakes in letter lessen the change of any appreciation from the reader especially with all letters except informal letters. We have experienced employees who are more than willing to help you in writing a letter which will surely fetch you praise from the person whom the letter was written. We at Urgent Homework Help not only write but also give feedback on the written letters and have a lot of templates that let you write a letter in no time. We check the letter for any grammatical errors and also have very careful in the format of the letter. If you want to have all the templates of letter order it now or buy homework online from our website.