Dissertation Writing Service
What do you mean by dissertation?
According to experts, dissertation writing is an extended piece of paper which requires deep research and serious analysis. There can be no mistakes. Here are some points outlined by our online experts that have to be remembered by the reader before dissertation writing.
It must be original
It must reflect a definite perspective
It needs research done apart from the books
It is an independent information that needs a substantial amount of research done with points written down support of the arguments.
Every argument must be checked and researched thoroughly for it to be correct.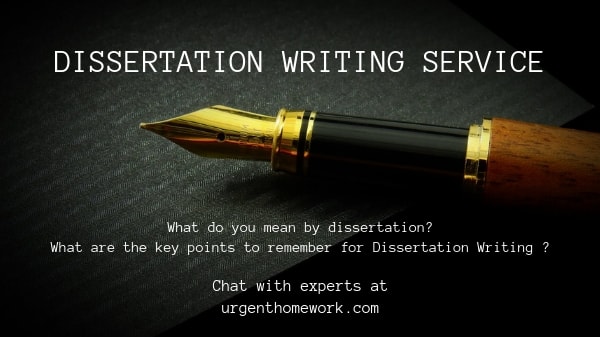 Key points to remember:
There are some key points that are needed to be kept in mind while writing a dissertation. Dissertation writers have correct and a strong hold of grammar and every word used in there must have the desired meaning. Writing of dissertation is not an easy task at all. All the sentences or arguments you are writing should be linked and attached with some proof. Other than taking care of the evidences, the writer should also take care of the concept used, analysis done on the provided object and the motive of the dissertation.
Many students find it difficult to write a dissertation letter but face with difficulty in finding the correct information and constructing it as a meaningful essay.
But don't worry. We here at urgenthomework.com with the help of our trained teachers and professionals will help you in completing your problems and coming out with a solution.
Our online dissertation writers will help in any way possible to complete your task. We have a team filled with professional dissertation writers we can write it in a very beautiful way. All our writers have years of writing experience with dissertation. The tutors have completed their masters and PhD. in their field and have years of teaching experience.
Even though different schools and colleges have different dissertation format, the basic steps are same in all. You can seek help from our experts to complete it on time that follows every step and procedure. The format of dissertation writing is briefly introducing below:
Title: Title comes before writing the essay. One must think about what title should be given to the essay. But even before giving it a title, one must think about few questions such as can you collect enough evidence for the topic? Do you find the topic interesting? Can you stick till the end of your dissertation? Can we deliver the essay properly without any further problems? And many more
Abstract: Abstract is like a sample in a dissertation. It is a brief overview of your content. The main reason behind writing an abstract is that with its help, the reader would know and have an idea about what the whole dissertation essay is about and they decide whether he/she wants to read it or not.
Acknowledgement: This states that if the writer has taken any help from any friend or some authentic source or teacher or other institution or internet, then it should be mentioned in the essay as an acknowledgement. But it's not necessary, if you haven't take any help from anyone then no need to mention it.
Content Page: It allows the reader to easily find the section of part in an essay or any written material easily. Content page organizes the sections and their sub-sections properly which helps in finding the required page or section easily.
Introduction: Introduction refers to the starting of the problem, your reason for investigating the problem, purpose, research and your goal. Introduction starts the journey of the problem and runs till the solution. It has been seen that many students confuse introduction with abstract. Abstract is like a synopsis of the hole essay. But introduction is the part where the reader is introduced to the problem.
Literature review: Literature review is referred as a go through of the whole essay and makes sure that related information has been included for the research. You can provide supporting facts, definition, past framework etc. on the topic of your research. Hence, it serves as information.
Body: Body of an essay includes the writing part. What is being written? How is it being written? Body requires a careful look or approach as it contains the most important part such as facts, analysis, evidences and discussions on the topic. It is very important for the students find the correct manner of arranging the essay like, what information should come first, what are the facts that are to be included and the synchronization or arrangement of the information so that the essay looks continuous and does not break the flow of the reader. If you ever find yourself stuck in a situation like this and are not able to arrange the essay properly then do visit our site www.urgenthomework.com for reference.
Conclusion: Conclusion simply means summing up your entire dissertation and put a perfect end to your write up. It is very important as it has answers to all the doubts a reader is having in his head. So, the reader tries to understand what is being read to them. But if the ending is not good and ends in a strange way, then it leaves a hollow mind with questions in their brain.
Bibliography: Bibliography simply means to write down or inform the reader about the source from whom or which you got the information.
So these are the number of things that you need to look out while writing a dissertation. English my seem easy but is actually the opposite. We hope that we are able to guide you perfectly and our solving your problems. If not, then please visit our site www.urgenthomework.com and our site and our trained teachers would be able to guide you so that you don't end up confused and irritated.
This article is about the writings of dissertation. It is very difficult to write with all the problems that we have to suffer in order to do attain the information. Which can be correct or incorrect. Then we have to authenticate the information about its credibility. Then go through title, abstract, acknowledgement, content page, introduction, literature review, body, conclusion and bibliography to make one good dissertation essay. We hope you have understood the concept pretty well. For more details, visit our site so that we can help you with the completion of your home assignments. If there is anything else you want as an information, you can talk to our highly informative teachers who would help you with your areas of doubts.
More Dissertation Pages