Shopping for gifts during the holiday season can be quite stressful. After all, we all wish to get the right gift for our loved ones. Out of all the people, it is the most difficult for one to get the right gift for college students. With the stress and anxiety that come into play, it becomes even more difficult. Whether you are looking for a gift for a freshman or a student who has just graduated, you need to keep in mind that these people are new to adulthood and that they do not wish to have the things that people in their thirties might wish to have.
Unlike good gifts that are quite difficult to find, it is fairly easier to find people who will tell you that it's the thought that counts and not the gift. But we all know that there is nothing like sending your loved ones the perfect gift during the holidays. If you have someone in your family who is studying abroad, then holiday gifts become even more valuable than they usually are. While living away from family, everyone, especially students expect and in fact, waits for gifts. Therefore, it is important that we select the best pick for our loved ones.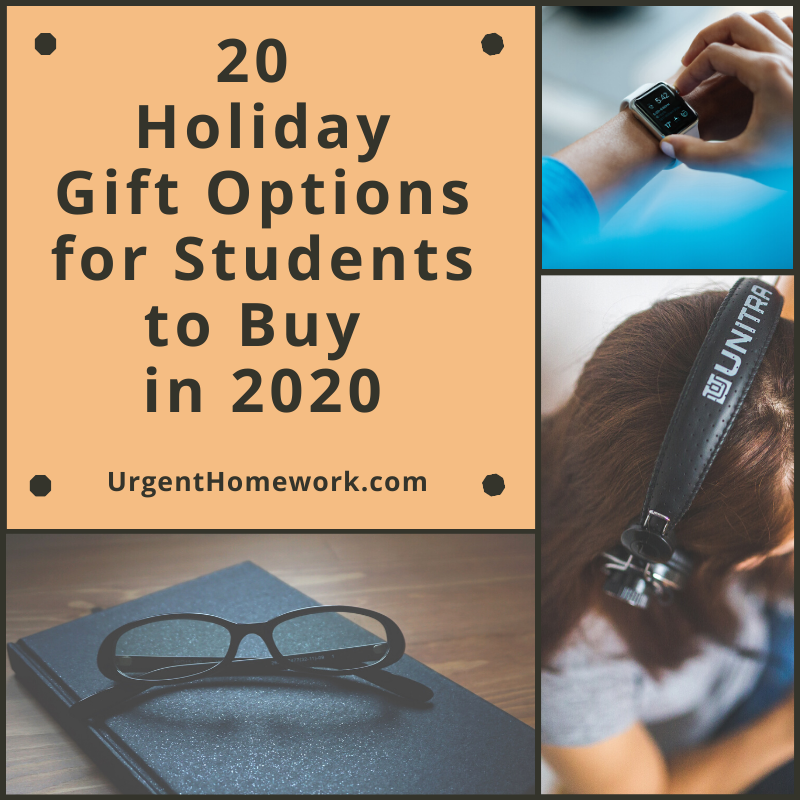 If you are someone who is always confused as to what gift would be good for college students, you should stop worrying. Here, we list 20 best holiday gift options to buy for students in 2020:
1. Wireless Headphones
It is no secret that headphones have become an almost indispensable part of our lives. Take a moment and observe the students around you. Everyone has them. And more importantly, students need noise-canceling wireless headphones. They can use it at the library, at the gym, while commuting from one place to another, like from class to their part-time workspace. Some students even like to have their headphones on while studying. Now that there are options available in the market that have really high battery lives, it is a great idea to grab one such quality wireless headphone and gift it to the student in your family.
2. Portable Bluetooth Speaker
Affordable portable and Bluetooth speaker is another gift that you can gift a student during the holiday season in the year 2020. Whether a student is at a party or hanging out with friends, music is always there. Some of the other person is always playing music. A decent brand is JBL and the JBL Flip 4 Waterproof Portable Bluetooth Speaker is one of the best options out there for the buyers to choose. Lately, speakers have become a highly integral part of the life of a student. Most of us cannot imagine our lives without a Bluetooth speaker. Therefore, it would make a great gift for any student.
3. A cool water bottle
As surprising as it may be, there are a lot of water bottles that have acquired the place of trends in the market. There are so many good bottles for the students to choose from. For someone to gift one of these bottles to a college student during the holiday season would not be a bad idea at all. A really good option to select would be the insulated wide mouth Hydro-flask. These can hold more water than most of the other options out there and they are simply a trend now among the students. Also, it comes insulated and is, therefore, a really good option.
4. Portable Charger
Since devices like mobile phones have become indispensable parts of our lives, a portable charger has become something that all of us need. College students are always on the go and while they are on the move, they need a portable charger. While going on a trip or traveling back home from college, a charger can be of great help. While choosing the charger, you would have the option of selecting from brands like Anker. Also, there are different models and designs available in the market, some of which are so small that they can even fit into the pockets.
5. Instant Pot
Although most of the students are pretty fine with eating from the dorm cafeteria and on bad days, survive on instant noodles, there are many who like to experiment and true their hand at cooking every now and then. If you know such a student, get them an Instant Pot during the holiday season. Instant Pots can prove to be really helpful for the students as they allow one to steam, boil, sauté, slow cook, and even pressure cook, all in one bowl. While doing so, you do not even need an oven or a stove. The students can prepare different things like eggs, rice, soups, and much more with this multipurpose tool.
6. A professional backpack
A backpack is something that every student needs, but if you can get your hands on a good and professional backpack for the college student you know, it can turn out to be the perfect gift item this coming holiday season. A great option in this category is the Jansport backpack. No matter if the student wants to go to class, hang out with friends, or go for an internship, this backpack, with its professional look and exterior is absolutely right. Moreover, it is quite sleek and slim and therefore allows the person to be extremely comfortable even during traveling.
7. A card game
This holiday season, gift the college student in your family or the one you know a great and fun card game that they can pull out every time they are chilling with their friends during the weekends or between classes. In this way, you can gift them something that they will really like and appreciate. Card games and even games, general, are becoming quite trendier these days, especially among the students. There are such card games available in the market today that can be played by tens of people. Therefore, it would not be a bad idea to choose one of them as the holiday season gift for a student.
8. A virtual assistant
With Artificial Intelligence redefining the entire world, virtual assistants are reaching every home. Devices like Amazon Echo Dot are revolutionizing the way we go about our daily lives. You can gift this compact device to a student to help him perform different tasks like getting weather updates, recipes, listen to music, or news by means of just a vocal command. The new model or the third generation version in the market is as much as 70 percent louder than the previous version and it also has a better design. Moreover, it comes with great features that make for the perfect gift for a student.
9. Kindle paperwhite
If the student that you know or in your family likes to read and also travel a lot, then there can be few better gift options that the Kindle Paperwhite. Not every reader likes to stuff his bag with books and then carry the heavy load whenever he travels. Therefore, Kindle Paperwhite is a must. It does not just save a lot of space for the student while traveling but since it is so light in weight, it reduces the load for the student to carry by a huge margin. You can even pre-load the kindle with some good books before gifting it to your loved one.
10. Apple Airpods
With this option or product or gadget, it is not just about the quality of the product but also the trend that the airpods have become. More and more people have them if you look around and those who do not yet want them badly. If the student you know uses an iPhone, then there is hardly anything better you can get them. They are surely one of the best sounding earbuds out there in the market and certainly the best cordless ones. The latest model of these earbuds also comes with an H1 chip that enables a better quality of calling.
11. Fitbit
Fitbit is another product of technology that can prove to be a great gift for any college student. It is no secret that one cannot always go to the gym and workout while pursuing a course in a school. But students surely walk a lot in and around the campus. Therefore, if you gift Fitbit to your loved one, then the entire time they walk can turn productive. They can keep track of the number of steps that walk in a day and do a lot more. This product can turn out to be really helpful for students who like to stay fit.
12. Premium subscription of Spotify
This is a bit out of the box and quirky. People do not usually tend to gift something that is not physically tangible. However, gifting a premium subscription of Spotify to a student is indeed a great idea. Spotify is an app that almost everyone uses today, and especially the students. Even though there is a free version available, there is no doubt that the premium version is way better. Any student would surely love to have a premium subscription. If you decide to gift this to the student you know, note that there is a really good student discount subscription available as well.
13. Grammarly
This is another gift of the same sort. It is also something that will enhance the productivity of the students. The free version of this app or platform is highly effective. However, the paid version is a lot better and more effective. Everyone knows that college students' lives revolve around assignments, articles, papers, and a lot more. They need to write a lot and that too, very frequently. Grammarly can help them a lot in writing these assignments and improving quality. The platform also works as a plagiarism checker, which makes it a really efficient tool for college students.
14. Microwave Pasta Cooker
Every student has experienced that midnight hunger and helplessness when there is nothing good to eat or to order. Thus, a microwave pasta cooker would be a great idea for students living abroad. Whenever they need or want a quick dinner, they can use this cooker to make themselves some pasta. After all, we know that no college student wants to wait for the pasta to boil when they are feeling hungry in the middle of the night. This product can surely be one of the gift choices for students living away from home.
15. Portable Movie Theater
A portable movie theater is another prime choice as a gift option for students this holiday season. Portable Movie Theaters have just arrived in the market and they have already become a favorite of the students. A really good option available in the market is Cinemood. The students can use these portable movie theaters to stream Netflix, Amazon Prime, and YouTube and can even download films and movies directly to the device. The best part about it is that it is absolutely wireless and thus, the students can use it anywhere they wish to and watch their favorite movies and videos.
16. Apple Macbook Pro
Every student needs a laptop today. For purposes ranging from assignments to making notes during the lectures to watching movies during the idle time, and much more, a laptop is the gadget that the students resort to. Surely, Macbook is a pretty decent option among the laptops for people of all age groups. However, if the student you know already uses a Macbook, then upgrading their laptop to the latest version would be a great idea for the holiday season of 2020. It might just turn out to be the best gift option for an apple laptop user.
17. Instant coffee maker
For a huge number of people around the world, the day does not start without a cup of coffee. If the student you are planning on giving a gift to is a coffee-person, then an instant coffee maker is going to make a really great gift for them. On most of the days, they are going to be extremely busy with the workload and strict time table. On such days, they would really like it if they could get their coffee really easy and instantly. Moreover, you can even accompany this item with reusable cups as well to make them get rid of the single-use plastic cups. 
18. A professional gym bag
As surprising as it may sound, taking a fluorescent color nylon bag into the gym does not exactly help one prove their seriousness for the purpose. One needs to have the right gym bag. There are bags available in the market that a student can use not just for going to the gym but for professional purposes like going to an office for an internship as well. If you decide to choose one of these bags to gift to a student, he is surely going to be thrilled.
19. Popcorn maker
Students often study during the night and having some light snack while studying always helps. In fact, it can even supplement the process. This holiday season, you can gift the student you know with a microwave popcorn maker to help them study at night. Although grabbing some packs of bagged popcorn is always more convenient, they are not the best for your health. Pampered Chef makes a really good microwave popcorn maker and even offers a small version that is ideal for college students.
20. Gift Cards
Although all the options mentioned above are quite good, nothing can replace the pleasure of buying something for yourself on your own. Therefore, a really great and surprising gift for your loved student can be a gift card. In this way, you can help them get what they exactly want and whenever they want. Many times, it happens that we choose something to gift to someone with our best intentions, and the other person ends up not liking the product. Therefore, it is always a great idea to send gift cards as a gift to someone.