Today, the entire world is on social media platforms. In the past ten years, the world has seen the great evolution of social media and the changes that this evolution has made in the world. Human lives have changed with this evolution. Today, you can do almost everything on the social media platforms. There are platforms for particular purposes. Out of the many things that we all can do on the social media platforms, searching for jobs is one. There are many platforms in the social media that have developed a big society of people online and help them in boosting their search for jobs.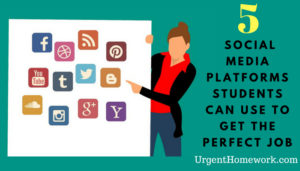 Students, especially are the major population on these platforms and rightly so. Most of them are looking for jobs all the time. The ones who do not have jobs look out for a start in their career and the ones who have jobs lookout for opportunities to enhance their career and give their career graph an increasing slope. There are many social media platforms existing today that give thousands of students a chance to search for jobs even while sitting in their bedroom.
Here are a few of them:
1. LinkedIn
If the social media platforms where students can search for jobs are ranked, LinkedIn would be on the first spot everywhere. It is by far the best platform to search for jobs. The recruiters and job seekers put together, there are 35 million users of the platform. It is one of the platforms for students to look for jobs. All that the students need to do is optimize their profile regularly, build a network and participate in as many groups as possible. The students should use applications and exchange endorsements. Everyone is given 1st, 2nd, 3rd-degree connections on this platform that they should use to secure the perfect job opening. When a student o anybody else searches for a job, he should look out for somebody in the network that he has built who can help him get to the hiring manager.
2. Plaxo along with Simply Hired
Plaxo is another such platform where students can find thousands of jobs. On this platform, you have to create a profile of yours. The profile contains your contact information, a section about you and your pulse stream. The 'pulse stream' is made up of the presence of yours on various social media sites such as Twitter. The one thing that differentiates this platform from many others is that this allows you to share your photo album and send eCards. The biggest highlight of Plaxo is the address book. This address book keeps track of all of your contacts. It also includes a Yahoo map which indicates where your contacts live. Moreover, Plaxo is also integrated with Simply Hired, which is a platform that searches a big number of companies and job sites and then aggregates all of them in a single location for the user. This integration of the two platforms proves to be really helpful for the students as they can use the Plaxo profile to apply for jobs with Simply Hired.
3. Jobster
At the number three spot in this list is Jobster. This platform is not as famous as the other already mentioned in the article, but it is a very useful platform that can be used by all the jobseeker students to search for jobs. On this platform, you can upload your resume, your video resume, you can also upload your picture and attach links to your site and tag your skills so that the employer can take a look at them. The site allows you to search for open positions and also see the person who has posted the job on the platform. Once you know this, you can add this person to your network and then find more about the position. Moreover, anybody can post a job on this platform for free, and these jobs are tagged with key attributes that the employer is looking for in the employee. The video profile is something that differentiates this platform from others. This is something that attracts employers.
4. VisualCV
VisualCV is one big name in the field of job search social media platforms. It has a unique concept and thus is very popular among the jobseeker students. The platform is regarded as the fact that it understands the importance of personal branding in the search for a job. Instead of a traditional and boring resume, the platform offers the users their own branded webpage. On this branded webpage, you can add audio, images, videos, work samples, charts, references, presentations an everything else that you think will help you to attract an employer. With VisualCV, you get the chance of standing out from others. It offers you the chance of displaying your values in a way that is way more effective than the static and usual text.  On this platform, once you have created your visualCV, it is absolutely your choice whether you want to keep it public or private. It is also your choice to save it as a PDF, forward the URL or email an employer. The platform is very user-friendly.
5. CareerBuilder
On the last spot is CareerBuilder. It is a website that lets the jobseeker students search for jobs and get employed. It is present in the United States, Asia, Canada and Europe. Also, it is the largest employment website in the United States, the country where it was founded. The website has thousands of recruiters and companies as its partner and is, therefore, one of the best platforms for the students to search for jobs. The website operates numerous sites in 23 countries other than the United States. Also, the website has a presence in more than 60 markets of the world. There are many other websites that this platform owns and operates. These websites are also job search websites. Some of them are Sologig, Headhunter, workinretaildotcom, JobsInMotion, CareerRookie and MiracleWorkers.