Choosing the right law school is the first important step of building your career in law. The competition to get into the best law school is undoubtedly very high.  The acceptance rate for top ranking law schools such as Stanford, Yale and Harvard is anywhere from a mere 8 to 10%  while for the rest of the best law schools in top 25 category only around 30% applicants get an approval letter.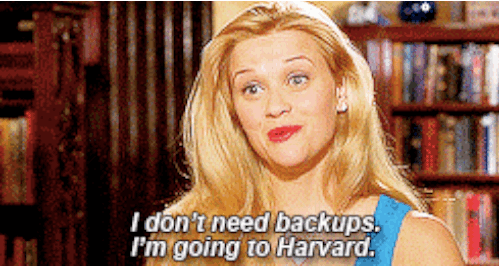 So if you have heard a positive reply from a couple of law schools then half the battle is already won. But now you must make the tough decision of choosing the best law school for yourself out of the lot. There are certain things that you must be careful about before joining any particular law school. First make up your mind about what you want from the law school. Also you need to consider various other factors such as the cost of tuition and aid, faculty, job placement as well as the kind of atmosphere and crowd you are looking for. Only after matching the criteria on both sides you can make an informed decision on the law school which is best for your career goals.
Here are some pointers to keep in mind while choosing the law school which will be best for you. 
On Campus Crowd & Culture
The campus of the law school is equally important as location. Often students think that they can manage  or adjust in any kind of atmosphere just because a particular law school ranks higher than the other. But it is not that easy to survive in a law school that is incompatible with your goals, culture and your own attitude. To determine whether a law school is compatible enough or not you need to find out the answers of some basic questions.
Before enrolling in a law school, a student should conduct an onsite visit,talk to professors, students, admin staff, walk around the campus, and walk around the neighborhood surrounding the campus.
You can't learn possibly everything about the campus by reading the brochures or visiting the websites only. Visit the campus of the schools you like in order to gain a better understanding.
Interact with present students and alumni to get an idea of their interests and on-campus life. Being with a diverse and qualified peer group is more likely to broaden your horizons and expose you to a variety of viewpoints.
Find out about the on-campus activities and extra-curricular options and see if they match your interests and hobbies, specially if you pursue some professionally. For example if you are passionate about surfing then New York Law School would be a horrible decision.
You need to find out whether you are capable of handling drastic social and cultural changes. Being homesick or nostalgic won't do you much good and it would be problematic for you to maintain good grades.
Location of the Law School
You need to keep the issue of location of the law school in your mind while seeking admission or listing out your favorites. If the top 10 law schools are not contenders then it would be more practical to go for the law school in a state where you would like to settle for practice later. Many law firms prefer to recruit local law school students as they are much more likely to be involved in community and develop wider local networks through their internships, clinics and professors.
Also, figure out the following things : 
Are you going to stay at home with your parents ? Are you ready to shift to some other town/city/state ?
Do you want to be in a town which can provide many part time job offers for you?
Are you going to stay on-campus or can you stay in a cheaper neighborhood at a distance and travel every day ?
How often do you plan on visiting your family ? If you have to visit your home every week then it's better to choose a location nearby to save up travel allowance.
Besides this, your internship, social and working connections are most likely to be developed and formed within the restricted geography of your law school only. Therefore if you really don't like the region much, don't go for it.
Which region do you want to be working in later? Law firms mostly prefer to hire law students from campuses in their own neighborhood. So you can cross out any schools located in states where you do not want to practice as a lawyer at all.
Tuition & Boarding Costs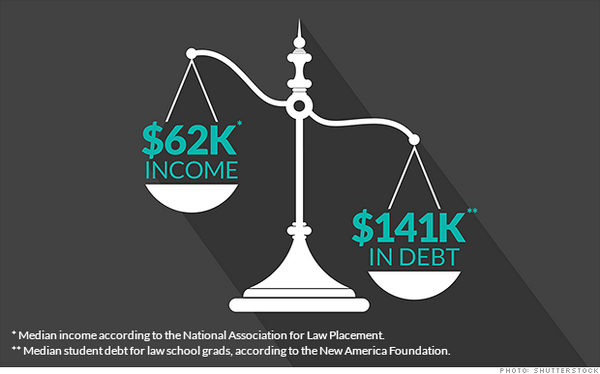 On an average, a student attending law school is likely to take out a six-figure loan of roughly $150,000. With the interest rate of around 7 %, that would require a monthly repayment of $1,700 plus for a period of 10 years. Thus, once you graduate out of law school, you will immediately need to find a high-paying salary to repay all your law school study loan.  However, the typical income that most law school graduates get at an entry level is anywhere from $50,000 to $65,000. If you are not choosing a law school that is ranked in top 25 places, then the chances of you landing a six-figure salary job are miserably low. Even if any law school is offering you a financial aid be very careful about the riders attached.
Do consider the following about tuition and boarding costs when you are choosing the law school to go to :
Research about the complete cost of attending a law school, factoring for tuition, boarding, meals, books, fees for bar exams, additional tuition fees for the bar exam and other living expenses.
Compare the options of financial aid available in different law schools, such as need-based grants, scholarships, and fellowships.
Look for law schools in your own state offering reduced in-state tuition. The City University of New York, for example, charges only $12,000 per year to NY residents. The University of Florida and Florida State charge $18,000 per year for Florida Residents. There are a number of other schools that offer cheap in-state tuition, which can result in significant tuition savings for law students.
Consider choosing comparatively good public law schools over the private law schools. Public law schools have lower tuition fees than private law schools. For example, University of Texas(Austin), being a public university, charges full-time resident tuition of $33,162 while Baylor Law School, a private institute in Texas, charges $52,400 for full-time tuition fees. Both colleges offer a higher than average Bar Pass rates at over 95%.
Find out if your law school allows students to work part-time.
Beware of the terms of conditions of the scholarships that the law school is offering. Many a times scholarships come with difficult and challenging academic riders such as the student must maintain a CGPA of at least 3.0 to renew scholarship in the next year of study. Such kinds of expectations are often difficult to meet as law school grading is extremely tough. Only around 35% of an entire lot of incoming students can achieve a CGPA of 3.0 or more, which means that 65% of students will not be able to renew their scholarship.
Bar Exam Pass Rate
To you, the process of applying to several law schools, clearing LSAT exam and making through to the law school of your choice might seem to be taxing. However, no matter what law school you go to the end requirement is to take the Bar exam and succeed (unless you attend law school in Wisconsin, which allows graduates of Marquette or University of Wisconsin to pass the Wisconsin bar exam upon graduation). Bar exam pass rate of a law school is an often overlooked statistic while choosing law school because it is a direct indicator of how effective was the law school in preparing you to be a lawyer. Every state in the United States of America has a different average bar exam pass rate and so does every law school. Therefore, the location of your law school will also reflect in the bar exam pass rate.  Students must consider two related statistics, one being the law school's bar exam pass rate and the second one of the state's average bar exam pass percentage; to get the most accurate idea. According to a list of law schools with highest Bar exam pass rates, University of South Dakota is ranked third with a bar exam pass rate of 97.8 %, whereas in the overall list of Top law schools it does not figure even in Top 100.
Here is an interactive chart showing the 2015 Bar Exam Passage rate for all states.

Faculty & Curriculum
Faculty plays an important role in helping a law school provide its students the best of benefits. You definitely want the best faculty of the lot. The best law teachers care about their student's learning and constantly motivate them with high expectations and innovating teaching-learning techniques.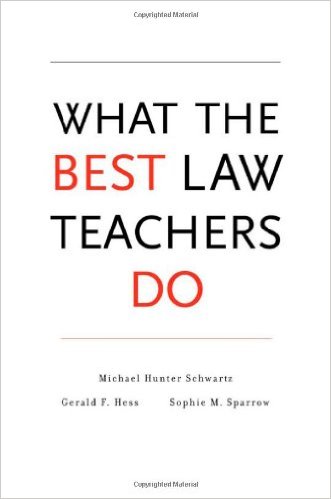 Go through the school catalogues and websites, profiles of the current full-time faculty members. Go through their educational backgrounds, publications, noteworthy achievements, areas of practice and research as well as bar & public service activities and compare them with your own interests and areas you will want to specialize in.
Faculty with a diverse breadth of backgrounds in terms of ethnicity, degrees, specialization and experiences will be able to provide you with better perspectives, confidence and experience in dealing with clients during service.
Find out student-faculty ratio for full-time faculty. As a rule, 30 students for each full-time professor is a decent standard. Some teachers also offer smaller specialized programs of clinics, model courts, simulations and practices.
Also look out for extra learning opportunities such as visiting law professors, symposiums, conferences, interactions with distinguished lawyers, judges and notable authorities of various fields.
The other thing that is important is the quality of the academic program. Mostly all the law schools follow the first year core curriculum of civil procedure, criminal law, contracts, legal research, methodology, constitutional law and property.
In addition to a well-rounded core curriculum in basic legal theory, a good law school must always offer a wide range of electives to enable students to develop their interests and specializations after the thorough experience.
Check out the law schools website as well as ask on-campus students about the diversity of courses offered, extra preparatory programs, clinics, simulations, trial-courts, bar exam preparation help, legal writing and research programs as well as academic support programs offered. Check whether the curriculum matches the current industry and job market standards or not.
Type of Degree Program
Apart from the general program, most schools offer academic support course too for the students who need assistance with the legal research, analysis and writing. Assistance courses are also offered for bar examination preparations. The students are invited for this kind of programs on the basis of their performance. The courses are spread through various semesters. Some even start before the beginning of the law school. The main aim is to provide academic help so that the students can have equal opportunity for academic success.
Many schools offer advanced degrees like The LLM degree that enable the students to take up graduate-level courses. Certain law schools also offer LLM degree with various possible specializations such as in Environmental law, Corporate Governance, International Business and many more.
Some of the schools even offer special programs like Doctorate degree in Civithe l Law, Doctor of Juridical Science, joint degree and cooperative programs and a degree in Legal Studies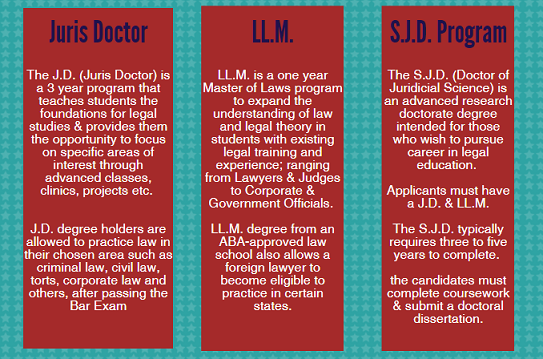 For working professionals there are also options of part time Law courses where classes are held in evening or over weekend. Generally it takes 4 years instead of 3 years to finish the part time law course.
A well-rounded law school program must offer abundant hands-on and experiential learning. Clinical programs enable the students to get involved in actual or simulated the legal situations with the clients. It also enables the students to learn the team work, and practical professional skills alongwith the basics of legal theory. The Moot Court Competitions also allow the students to rehearse trial and work under pressure and within a team so that they become used to the methodology of interviewing, counseling, research.
Library Facility
You must pay attention to the library facility in the law school that you are planning to go to as the law libraries greatly differ in terms of their compositions, collections, size and services.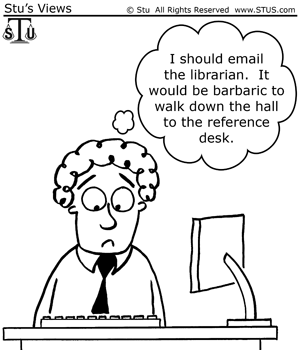 Since you have to depend upon the books from the library more than you think, it is better to choose an institution with good library facilities in terms of infrastructure and connectivity. At times, public law schools have richer libraries compared to privately funded law libraries, as the former may provide library services to local and state attorneys.
You have to keep in mind the size and quality of legal research compositions and sources, accessibility of print and electronic resources, staff, facilities, working hours. Inquire about the availability of reference librarians and other library professionals, who will be tremendously useful with legal research and writing.
The library should include important research materials in both primary and secondary legal texts.
If there is any particular specialization you are aiming for, make sure there is abundant quality legal research resources available on that as well. Also check the electronic resources the library subscribes to and possibilities for remote access to them.
Find out about proximity to other reference libraries such as courts, bar associations, law firms and public libraries or university campus libraries.
Student Organizations and Fraternities
While deciding about the course, try to keep in mind the issue of student's organizations and fraternities on campus as well. Student organizations and fraternities are extremely important in uplifting students' intellectual level and intelligence by helping them meet similar peers and raising interest and awareness of students about various causes. There are different types of societies too. Find out about various such organizations in law schools that you will be considering.
Many schools publish student's journals. It is important to follow those writings since you can gain different perspective while reading about different kinds of perspectives. Try to write something. It can be a step towards your possible career in writing about legal issues too.
Look for the law schools that have active societies and organizations on causes that you care about. If you are planning to become an environmental lawyer, look for law school with an active society on the same. This will help you network with like minded people and even industry influencers at organised events.
By hosting professionals in academia, government, and the private sector at the Law School, the group and its members seek to stay current with IP law developments and learn of available resources that may be valuable both during school and following graduation.
Placement Records of the Law School
The most important thing is the issue of employment and advancement of career. Get an absolute clear picture of what career services the law schools can offer. Various law schools offer panel presentations, seminars, symposiums, mock trials, moot courts as well as career counseling services to expose students to hands-on training. Students should consider the career options, presence of career counselors who are well-reputed, rate of employment and current positions of the past students.
Get in touch with the career placement officers, present students as well as alumni of the law schools and ask information such as number of students placed right out of law school, average salary of graduates placed, what kind of jobs were students placed into, bar exam pass rates, and notable law school alumni (and those who sit on the federal bench).
Also, if it is important to you to gain hands–on experience during your education, find out if the law school offers internship opportunities, externships, clinical programs, field studies, legal writing and research opportunities etc.
Consider the school's Alumni Network. Alumni from a college generally are more likely to hire a student from their college. Find out their experience of the degree programs and the law school's actual reputation in the job market.
Choosing a law school is an important life decision. Many students look for quick answers on Internet boards or newspaper and magazine rankings to decide which law school to attend. But the answer to 'how do I choose a law school" is much more complicated and a personal decisions. Do not be guided just by the rankings of magazines to take an important decision that will cost you 3 years of your life, $150,000 in debt and a forever career commitment. Instead, take the time to visit law schools in person and checkout for the factors listed above to make a carefully calculated decision where you want to live and start your career after law school is over.
Feel free to share your law school application experience with us in comments.