Homework has always been an interactive tool between parents and children, allowing parents to be involved in their children education knowing what their children are learning. Teachers and school community always suggest parental involvement in homework because contributing to their children education makes a positive difference and also help children to develop new learning strategies. Parental involvement in student education may be influenced by the school community as they always bridge the communication gap between the parent and the student.
Parents should keep in mind the following points for better results:
Interaction with the school community about the homework or other activities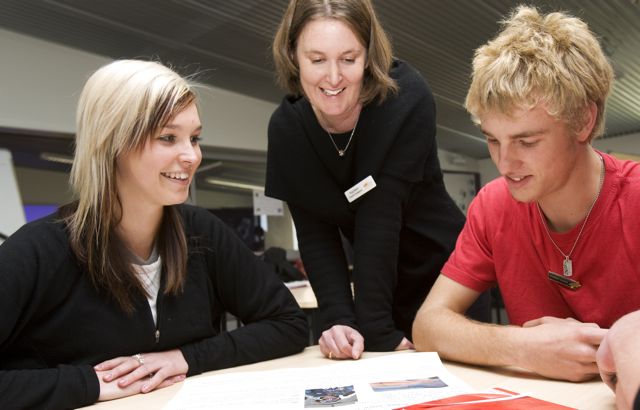 Parents can interact with the teacher about their children behavior and performance.
Parents often want to indulge in students' homework, but they do not know how to help their children with the kind of education provided by the school. Teachers can guide the parents on what methods to adopt, teaching strategies to be implemented and how to understand their child's intellectual level.
Follow school schedule and meet certain requirement and suggestions related to homework.
The school community often circulates the written information about the assignments or the activities which are helpful for both the parents and the students. It must also communicate with the parents and discuss their mutual goals for the students.
Establish a proper schedule for students' homework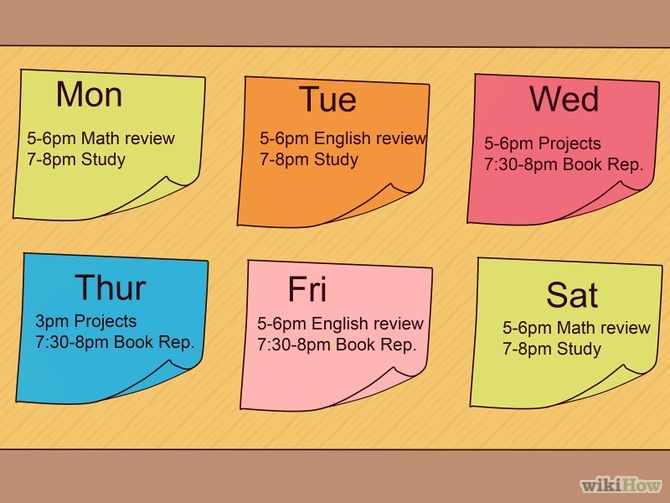 Frame a study structure for students and tell the children importance of proper utilization of time.
Establishing a structure for the students may require analysis of two factors, namely
Age of the student and his needs
Personal traits of the student; If he needs parental involvement or not and to what extent.
Make rules and follow-ups for the homework along with parents' expectations from the student.
A silent and comfortable environment is a must in the frame and follows the alternative homework schedule suggested by the school teachers.
Help student arranges his homework materials and manage his time and space. Parents must also be available at the scheduled time for homework. External distracting gadgets like Television, CD player etc. must be turned off during study hours and discuss with the school community about the strategies to develop to prevent student's mind to get diverted during studying.
Give general overview of the homework
Supervise the homework process.
Observe the student under pressure, support his understanding and be available to answer his questions. Also, support his answer if he has something in his mind. Guide and correct him. Do not impose your understanding on his.
Monitor the student during any difficult situation and motivate and guide the child.
Observe his work patterns and give him good feedback. Encourage him by saying, "Excellent"," Well done", "That's a better way to solve the question."
Try to develop tricks in student's mind for difficult tasks.
Explain him the tricks to solve questions and then encourage him to derive his own.
Review and respond to the homework completed by the student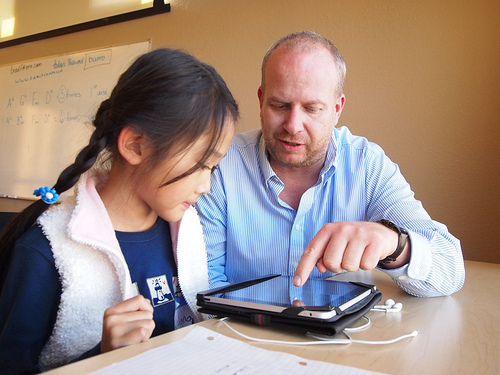 Give rewards to encourage the student and always motivate him to do better
Getting good feedback from the parents acts as a positive inspirational source to the student. Teachers and school community may also suggest parents about giving positive feedback to the students work.
Review the homework and make corrections
TIPS (Teachers Involve Parents in Schoolwork) are a program which allows the students to discuss homework with their parents where parents are expected to be interactive but problem-solving strategies have to be developed by the student himself. TIPS is very helpful in encouraging learning capabilities among the students, supporting parental participation and giving them knowledge about what their children are learning.
Become a supportive base for the student.
Show the same engagement and interest as the student
Not only assist the student but also do the homework with him
Parents or any family member should listen from the students what they have learned at least thrice a week.
Make him practice to derive answers, also, learn facts and memorize.
Direct teaching is always beneficial for students who need help and face difficulty with the homework. Useful when the work needs to be memorized.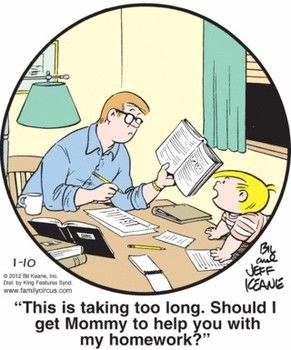 Teach in more informal ways, reply to his questions.
Indirect teaching focuses more on developing logical and analytical skills rather than learning and memorizing things.
Each and every student cannot be taught in the same way so work according to the student's mindset.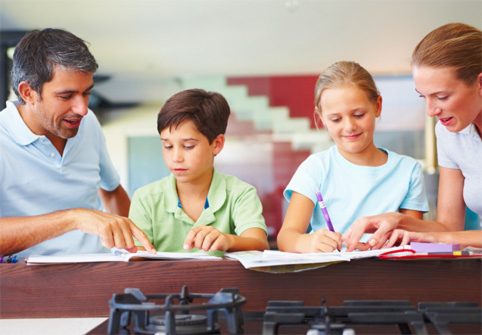 Several Programs have been running on improving parents' understanding of student intellectual level.
It involves regular parent-teacher telephone conversation about the student's progress and on paper suggestions for parents. The conversation also encourages parents to focus on their child's learning and thinking process.
Break difficult tasks into small manageable ones.
Observe and understand his intellectual level, according to the way he grabs things
Teachers may suggest parents about student's learning methods, working skills, his ability to understand the tasks and the guidance the student requires to achieve his goal. Parents involving in such interactions can develop teaching strategies for their kids according to their understanding.
Develop an interactive session between the teacher and the student during the homework process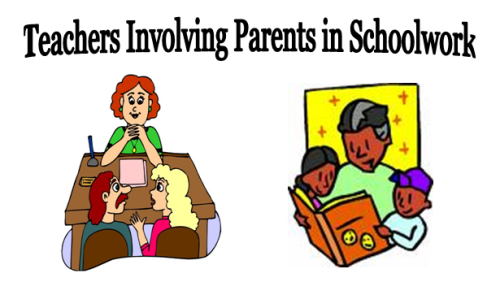 Discuss problem-solving methods and support students' understanding of the problem
Ask students how they got the solution, support their method and also, suggest a better method.
Demonstrate the problem visually or graphically to the student for a better understanding
Visuals or graphics make the task easier to understand but explain to them where and what to use, for example, plotting a graph for a maths problem can help understanding the task but coloring the graph will be a wastage of time.
Involve in meta-strategies and support student's method to achieve a goal
Develop a personal responsibility and sincerity in the student for his homework
The positive attitude of the student and positive perception towards achieving goals are required for a better level of understanding.
Mentor his organizational skills for the assigned work
Encourage a student to examine himself
Self-control and self-regulation skills focusing on target can help in effective learning pertinent to target.
If the homework is expected from the student, then parents should not involve in the work
Such assignments are assigned depending upon the students' understanding and knowledge. It is the best way to test their understanding and also helps students to develop independent learning skills.
Extra involvement of parents may prevent from giving positive results.
Make him read aloud every night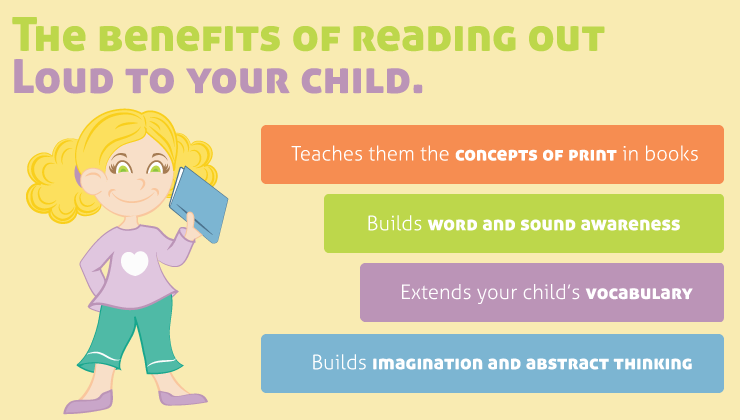 Fix a quiet place and ask him to read to you. If he makes any mistake while reading, correct him and ask him to read it again.
Ask him the meaning of the sentences he reads. If he doesn't understand anything, explain him and ask him to reread so as to assure that he understands it clearly.
Also, ask questions between the stories to enhance his understanding skills.
Ask him to frame the story in his own words.
Teachers play a crucial role in helping parents getting involved in children's education. The important interactions between parents and the teachers help them discuss their mutual goals which help the students' in learning effectively and giving a positive outcome. If you as parents need help with creating personalised learning plans for your children based on their quantitative aptitude, reasoning, learning skills, reading and writing habits.
Are your parents stumped by Educational technology innovations? Here is a starter guide for parents to understand everything you need to know about Blended Learning