In today's world of global connection, online courses have become so popular that every person is looking for subjects in his/her area of interest. Be it, young graduates, fresh recruits or experienced employees, everyone is hoping to add an online certification to their resume.
Online certification can be gained in any course provided by an accredited university. There are many reasons as to why one decides to pursue an online course. It could be for an attractive resume, for an employer's pre-requisite or just for the sake of interest.
Whatever be the reason, completion of an online course has many benefits apart from a shining resume. First of all, it gives you the confidence of having studied something different from your general course or to have added to that existing amount of knowledge. Secondly, these courses are usually for short time span which can be easily balanced with your other prominent work.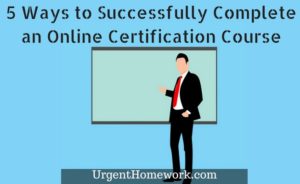 Most important of all, online courses save you a lot of time. Also, you have the advantage of being able to move through the topics at your own pace which is otherwise lacking in regular courses.
However, people may face many problems during the course and hence, I am writing 5 ways of completing an online certification successfully.
1. Interesting subject
Online courses are available in various ranges of subjects and topics. Completing a course should not be only for the sake of an addition to the resume but also to learn something about the subject. Therefore, choosing the correct subject for your online certification should be the first and foremost step before you can even think of completion. This should be based on your interests and passion. If your course is a pre-requisite for a potential job, the subjects and units will be provided to you by the employer. However, you should try to be assertive about the curriculum you will be following and make sure that it does include your area of interest. If that's not the case, you may request your employer to add your subjects or change the course. If the course is not of your choice, you may have difficulties coping with it.
2. Talk to co-workers
If your course is indeed a pre-requisite for a company, you might not be the only one doing it. There might be other co-workers pursuing the same course. Talking to them can be of help to you if you get stuck in any chapter. You can befriend them and help out each other. Also, you will get to know other opinions about a particular subject. Even if you are pursuing the certification as a hobby, try finding others pursuing the same and discuss with them. This may even motivate you to perform better. You may also figure out other benefits, or even shortcomings, of the course by talking to people of which you were unaware earlier.
3. Online training
Being a pre-requisite course, it may not have the subjects of your choice and also, the employer might not agree with changing the curriculum. But would you leave your dream job? 'course not. You take it up. But you might obviously face challenges which would be harder than facing a subject of your choice. At this point, you require professional help. Online training websites come to your rescue. It is like getting tutored for any other course. However, if you like your subject, training holds for a rare possibility. Since proper training for short online course seems daunting, you might as well look up the internet for other information regarding your subject and go through that.
4. Prepare for exam
Not all online certifications need you to clear an exam but if you choose a one that does, companies will prefer your resume over the ones who didn't. As you know that online courses are for a short period, you should be thinking about the exam from the very start. The exams for these courses are usually conducted online once the candidate finishes the course. This exam is not considered to be very difficult because it comprises the syllabus covered in the course only. However, if you do not focus on the topics, you may lose the chance of acing it. Find out the exam pattern by looking at the previous year questions. You should try to get familiar with the test as much as possible. You might even take mock tests for doing so.
5. Willpower
For completing the certification, you must know that you have to do it. There might be many times when you don't feel like continuing it, maybe because of the difficulty level or just because you are not interested. However, if you are doing this course for an employer, you have to accept that no matter how difficult it seems you are supposed to complete it. If you feel lazy, you should think of all the possible benefits you would prevail on completing the course. Imagine your boss is impressed with you and make that your motivating force. You can even indulge in healthy competition with your co-workers or other people pursuing that course. This will also prove to be a driving force towards course completion.
Completing these courses may give you an opportunity to grow in your job and also, add attractive columns in your resume. You should keep these two in your mind while pursuing the course. To complete an online certification, it is best to proceed step by step through each module, learn the topics given and answer accordingly. A little persistent effort is enough to successfully complete an online certification.