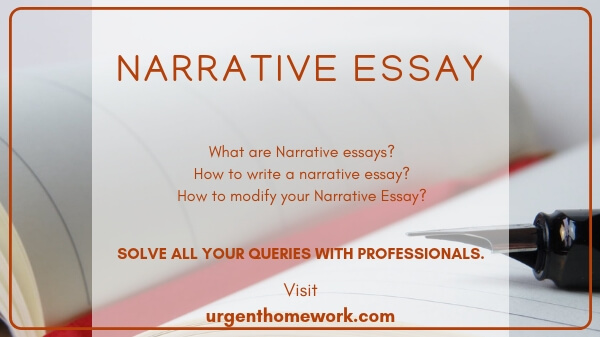 What are Narrative essays?
Narrative essays are known as essays that are usually consigned pieces of writing in various stages through school time. You can say essays that involve real-life stories that are linked with classic themes. It can also be fun while writing only if your approach is better. So, in order to make your essay a bit amazing you need to choose a good topic first and then jot down a rough draft on the paper and after that revise your narrative essay and correct errors if any.
Select a good topic: Make sure you choose a topic that eventually explains your topic appropriately or your theme because basically narrative essays usually involve two main kinds of components: first a story and then some brief about the story. A narrative essay can be a theme, particular essay, concept or any kind of proposal but it initially requires a real-life story in order to explain an Sometimes narrative doesn't involve any kind of outside references or research but you will be using your real life story or own story in order to provide the needful evidence or proof of any point you were trying to make. Narrative essays are considered to be the common school assignment that is initially used to test one's creativity and also the capability to link some of the elements or situations of your real life to that particular topic discussed.
Make sure your story is relevant and rapid: Narrative essays are considered to be school essays most of the time and are written basically on the relevant topics given by your teacher. So, make sure you read your topic once in order to create the story that will eventually create a meaning once you've written about it. However, here are some of the common topics that one come across but is not limited and you get to experience the adversity and need to overcome it as well. Once if you fail you need to deal with all the upcoming consequences by which your personality and character will eventually be transformed and in some cases, you might have to experience privilege or discrimination and it depends.
Select the story with an appropriate scheme: In general, if you have a good narrative essay it will eventually help you select unique and specific stories with vivacious and incandescent effects at the same time. Make sure it is not a novel that you're writing so your story shall be properly restricted and succinct and also make sure you limit it is possible in terms of plot, setting and other different characters.
The select story with lively facts: Good narrative essays do contact many lively facts, different languages and appropriate images that will eventually help you in making the real story for the reader. But before that, all its sights and smells need to be discussed in the form of appropriate detailed facts. It is not only important to think of stories that make a good and successful essay but it is important to think some of the innovative ideas for the same.
How to write a narrative essay?
Before you begin to summarize the plot: When is your story starting or when is your story ending? It is important for you to jot down the quick list or important points that have been used in your story because it is considered to be a good way of highlighting all the necessary details about the same because each and every story requires a start, middle and end.
Make use of a constant opinion: However, most of the narrative essays are written at the first phase keeping in mind using "I" statements but is considered unusual at the same time compared to other tasks given in the school. Be it anything, whether discussing what happened in the past tense or giving scenes with various dialogues and it is perfectly okay to use the first person in a narrative essay. Make sure you don't change the perspectives in the entire story.
Illustrate the significant characters: Other than just you nothing is important in the story. It is equally important for you to completely describe questions like who was present when a particular situation happened. Who was affected by the outcome of the story? What is the unique or important information you know about the different people in the story you've created? These kinds of questions usually build up the characters into real people and thus create a whole different story.
Find the contender: The narrative essays that are usually good consist of a character and a contender. This character is considered to be the main character i.e. in most of the essays it'll be you who is eventually struggling with something or the other. It can be anything either a condition, force, situation. In any case, the main character generally searches for something and the audiences have to root for them in the same way. Whereas the contender is that thing or a person who keep away the main character from getting what they wish for.
Explain the background: the background is considered to be as important as a story or the characters or plot i.e. where is your story taking place? Outside, at home in the country or city? It is important for you to equally explain the appropriate location that your story is taking place and let the background too become a part of your story.
Make use of flamboyant facts: Writing well is however in the facts particularly, this is because of the most boring office environment or says the dullest city can be made convincing or persuasive by using right and appropriate kind of facts in the write-up. So, it is important for you to make sure that you use particular or specific facts that usually don't really explain anything else but only the exact thing you're writing about and let all of these flamboyant facts define the story.
Modifying your Narrative Essay
Make sure that your thesis is clearly exemplified in your story: Once you've finished writing your rough draft the next step for you is to read thoroughly and make sure your story is exemplified in it. The purpose of your story shall be explained thoroughly and also clearly written in your story and you need to make sure of that as well. Make sure your story gives an answer to each and every question that arises in the reader's
Make use of sights and synopsis: Each and every narrative essay is made of two kinds first is the sight and second is the synopsis. Sights are known as a scene that initially portrays unique and main information about an important memory of your story. Sights are considered to be the small moments or memories that might take a while to be read by the readers and understand it appropriately. However, a synopsis is used to narrate the time used or taken in between the sights or scenes i.e. they are considered to be the long moments that you need to read quickly.
Make use of dialogues and format correctly: While writing the narrative essay basically, it depends upon the story that you're writing whether it is a short story or a regular essay that you generally write in your school. So, it is considered equally important for you to be sure about the principles of formatting both kinds of writing. However, there are many narrative essays that initially involve some of the dialogues as well so it is equally important for you to format that particular dialogue correctly because it is also considered to be the part of your revision.
Completely revise your essay: Revision is considered to be the most important part of any No one can submit the rough draft even the most experienced writers check the essay or revise it before the finalizing it. Make sure your draft is completed quickly so that you get enough time to revise the story carefully and make the necessary changes if any. Make sure your main points are cleared in the essay that you've written and also proofread it because proofreading is considered to be the most important part and it shall be done at the last just before finalizing it.
So, now as you know what narrative essays are and you might be aware how to write them too, then what is the wait for go ahead and follow the above mentioned tips in order to write a successful narrative essay that will not only attract the readers but will also inspire them to read more and this will give you a satisfaction that people actually go through your essays and thus it will then motivate you to write more of the essays.