In this 21st century, technology is a very vital factor. Every single day a completely new app or a gadget is being brought into the market that serves to improve our lifestyle and make your lives more luxurious in one way or another. Here it is important to note that technology not only plays a big role in making your lives easier but turns to be a magic wand in many other sectors too.
"Technology can become the 'wings' that will allow the educational world to fly farther and faster than ever before – if we will allow it"
– Jenny Arledge
Development is dynamic and so as the technology. Technology is growing rapidly and its role in the education sector is not hidden from anybody. Technology in education is not just limited to online learning or visual classroom. It has in fact succeeded in providing students an easy learning platform and a comforting atmosphere even in the traditional classrooms.
There was a time when, in the name of technology, classrooms had an overhead projector and a CD player. However, with the continuing advances in the technological world, today's classrooms are equipped with the latest technology to foster the learning process and to enhance instructions.
10 Most Effective Classroom EdTech Gadgets
While there are a large number of free online resources such as ESL Blues, Label Me, TEFL.net, Postscript, BBC Learning English, Business English Material and many others to help educators teach their students, but having additional technology in the classroom can always aid in encouraging students and drive creativity in a traditional classroom. Keeping this in mind, to fuel student's passion, teachers are now using a variety of apps and gadgets to make educational data accessible to all the students.
"We need technology in every classroom and in every student and teacher's hand, because it is the pen and paper of our time, and it is the lens through which we experience much of our world" – David Warlick
From smartphones to tablets, every gadget has its own importance in an effective way of teaching. If you are still using those mainstream whiteboards and projectors in your classroom then please Wake up! Here is the list of 10 wonderful gadgets that will transform your tedious classroom into an amusing world of knowledge and without a second thought make your teaching as well as learning more fun.
Apple's iPad Pro
Apple believes in the power of technology to transform classrooms. Apple products like Apple TV and Mac expand what is possible inside the classroom and beyond. iPad Pro has opened up new opportunities for learning and it will help you to capture your student's attention like never before. By iPad, Pro lessons come to life together with sound, motion, and touch. This apple product will change your passive learning to active exploration and by using this, listening for students will become discovering new knowledge.
Students are learning reading and writing since the kindergartens. Now it is the time for educators to explore the world around them and make their students capable of surviving in a future driven by technology. For this, teaching 'coding' in classrooms is very essential and that's why iPad Pro has created the comprehensive where everyone can code curriculum with lessons.
All these efforts are done by Apple to empower teachers and to deliver the best they can do for the students. So go for it!
3D Printer
The 3D printer makes three dimensional solid objects from a digital file or thin layers of material. This process is also known as additive manufacturing. The 3D printer is a facilitator of imparting real-world application and knowledge in domains of architecture, fashion, engineering and footwear designing to name a few.
It has now become a common sight in many school labs and classrooms. Imagine your next Biology chapter is about skull and school's biology lab is under maintenance. What will you do then? Will you explain the lesson with a 2D skull design on the blackboard or just virtually? Don't worry! The 3D printer is the solution of your all problems. You can easily create a 3D skull with the help of this printer.
Introducing 3D printing technology in your classroom will stimulate engagement and interactivity with students, promote problem-solving skills, sparks creativity, and innovation, and will also allow students to adopt a practical hands-on approach.
"The application of this technology is only limited by the ambition of the teacher and creativity of the students and there is no cap on either of those things" – James Carroll (Founder of 'The Northern New York Robotics Academy')
Oculus Rift
In this era of technology, students are moving away from simply 'learning' a subject to 'feeling' the context. To give that feeling to students, oculus rift is one of the best devices for teachers. It is unlike anything one has ever experienced. Whether you are stepping into a horror story with students, watching the making process of a car, taking your students under the water or just telling them about World War 2 with the help of Oculus rift, they will feel like they are really there.
You can use Oculus rift to collaboratively construct architectural models, recreate historic or natural sites and can provide students a deeply immersive sense of place and time, whether evolving or historic.
"In the case of Oculus Rift, there is a higher level of presence or telepresence in the psychological experience of the medium, which is good for learning because it makes people pay attention and directs attention in ways that are not deliberate"
– Rabindra Ratan (Michigan State University Professor)
iPhone & iPad Projector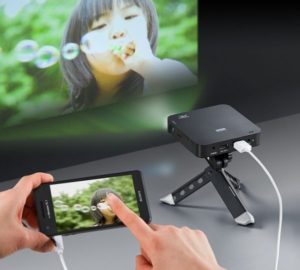 Having a projector in your class is not a new thing. 9 out of 10 classrooms already have projectors and CD players. However, having a projector small enough to take with you in your bag is definitely a new invention in the market.
The new mini high definition LED projector has become the first choice of every institution. This portable projector weight just 1.8 pounds which make it easy to cart back and forth to the classroom.
You can easily carry this projector on your educational trip with students or to trip to a historic place to provide them with spot knowledge regarding the subject.
Arduino Kits
Arduino is an open-source electronics platform based on easy-to-use software and hardware. It is a micro-controller board that allows students to make anything, from the basics of electronics to more complex projects. Arduino has different kits for your classroom's young programmers and makers such as Makeblock Educational starter Robot Build Kit, The Arduino Starter Kit, Arduino Ultimate Uno Starter Kit, Makeblock mBot Educational Robot Kit for Kids, ArcBtics Sparki The Easy Arduino DIY Robot, SainSmart New Basic Starter Kit for Arduino and Makeblock Ultimate Robot Kit.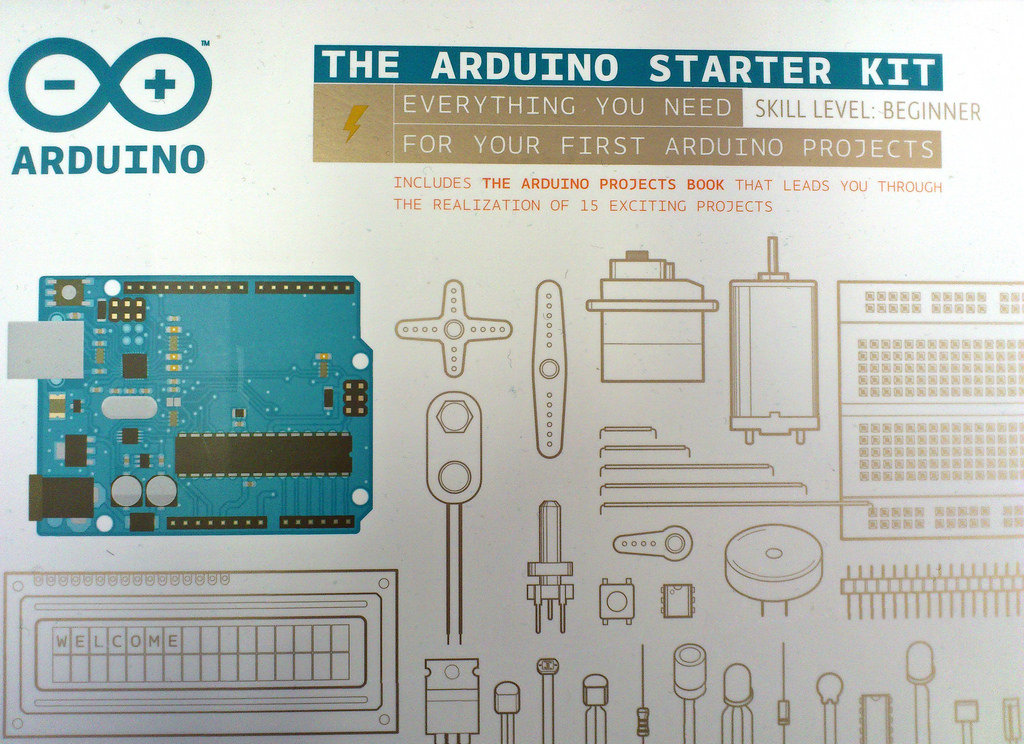 It may seem a bit complicated at first, but if your students are young and tech-savvy then they will easily grasp the programming. Arduino kits encourage electronics and programming skills in young engineers, as well as basic creative maker skills.
Try Arduino with your young engineers and programmers and become their favorite!
Do read this wonderful starter guide on teaching kids to code with Robotics
Smart Boards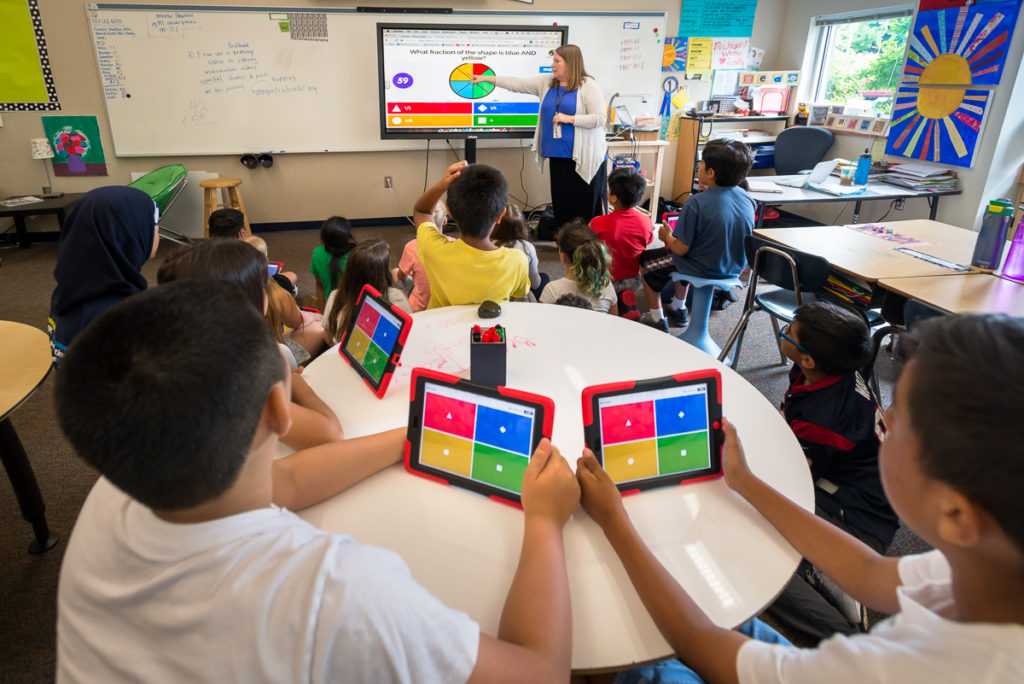 An interactive whiteboard, popularly known as a Smart Board, is a very useful tool in the classroom which adds interactivity and collaboration.
It also facilitates the integration of media content into monotonous lectures. These whiteboards are the technological evolution of classroom blackboards or whiteboards. Unlike the traditional whiteboards, interactive whiteboards used as a touchpad to move the elements on the board coming from a digital projector connected to it.
You can drag the items, copy the text, and write the notes by using your fingers as a mouse. The best is that you can transform your notes into text, save them and can easily give them to your students. This will help them to concrete and participate in the discussion instead of taking notes in their textbooks.
Interactive whiteboards not only boost communication between teacher and students but also enhance collaboration, increase participation of students and improve learning.
Read more about how a fourth-grade teacher in Beaverton School District in Oregon made her classroom more immersive and interactive by using smartboards.
Smart Marker
Do you have a habit of teaching without books? Are your students more comfortable with your notes instead of bookish language? Do you like to explain everything by drawing charts and models on the whiteboard? But, what you do after completing the topic? How you deliver those bunches of notes to your students? If I'm not wrong, the only option left for students is to snap a photo before you wipe the board clean. Right?
Are you looking for an alternative? Go for Interactive Whiteboards! But, can you afford it? If no, then we have a better option for you. Use SmartMarker! With SmartMarkers, you can write anywhere, capture everything and can easily share it with students. You can keep your notes organized and accessible to students using the cloud, Evernote, Dropbox or your favorite app.
The smart marker is small and light like your usual marker with the capacity of capturing up to 10,000 pages. It is as easy as ABC and does not need any installation or calibration. It is rechargeable and can work for 8 hours continuously. It is portable and so you can carry it to every class without compromising with your other utilities.
STEAM Kits
STEAM kits are amazing for all ages of students to create a portable learning experience. Through hands-on experiments, students get a better platform to learn about technology, engineering, math, science, arts, designs, and architecture. Each kit has DVDs, guides, books, relevant pieces of equipment like digital microscopes & telescopes and STEAM resources. There are about 26 STEAM kits available in the market depending upon the age groups. Experiments in this kit will allow students to have fun and at the same time to be creative while building hands-on making skills. Projects of this kit will polish student's skills as inventors and creators. STEAM kit aids in creative thinking, problem-solving, encourage teamwork and build confidence in students. By using this, students can build their own version of a basic car, a throwing arm, a robot or even a gizmo to track their daily habits.
Smart Making, Start Designing!
Check these recommendations for Classroom Game options for teaching kids to Code with Robotics
GoPro Camera
Whether you are recording a lab demonstration, sharing reviews for a book, disseminating class notes, a study guide for your online class, you need a high-quality webcam like GoPro. It captures amazingly smooth footage in the air as well as in water (comes with waterproof casing). This is the reason that it is proved to be the best device for teaching marine biology or aquatic safety.
Do you want to observe the behavior of students in the class? Do you want to review your own lectures to make them even better for next time? Then this versatile little recorder is great for your every purpose. It records 30 frames per second at 1080p HD and can be mount anywhere.
The most important part of a classroom is the relationship between teacher and students. A strong relation results in a healthy environment in the classroom and which will definitely lead to a good result in the future. Strong relations build with beautiful memories and this handy webcam can be your hero to capture every moment of your classroom.
A small English drama in your class, First presentation of a physically disabled student, a poetry competition, or a mimicry act to entertain student, you can capture everything to show students on their last day of school. From education to entertainment, a GoPro is a must for your classroom.
E-Book Readers
Traditional textbooks are no doubt being sold by the millions. Yet, the enormous growth of EBooks is hard to ignore. The new and cost-effective way of interactive learning has marked its presence all over the technology world. Though you can download eBooks on your tablet and can read it for your students, having an eBook reader will make your work easier and more convenient.
E-book reader, say for example Kindle or Nook, is designed primarily for the purpose of reading digital e-books. If you think practically, an eBook reader is a far cheaper option than a bundle of books you study before delivering a lecture in your classroom and above everything, with an e-book, students can also access to every book that you are using for teaching.
On e-book reader, books can never get out of stock and you can save your students time from running to stores, they are portable, and you can carry as much as books you want without carrying extra luggage.
Make your know library!
Earlier, the technology in the education sector was a debatable topic among the institutions and the scholars. Everyone had their own positive and negative views on making education technology aided. However, gradually technology completely changed the face of education. Technology has made it possible for learning to be more interactive than before.
With the invention of teacher and student-friendly apps and gadgets, the atmosphere of classrooms has become more lively and interactive. We have seen plenty of examples which proved that the education and technology are a great combination if used together with the right vision and reason.
If the technology will keep improving at this rapid speed then we believe that our next generation classrooms will not go to be less than a sci-fi movie experience. Though we don't know what will be the new invention in the future what we do know is that it will not go to stop!
"Technology will never replace great teachers, but technology in the hands of great teachers is transformational"
– George Couros
p.s.: We would like to thank assignmenthelp.net for this guest post contribution, the infographics and featured image.