As the summer vacation time comes closer, each student looks up to it with excitement, having many plans in mind. To take a trip to a new city, join some new activities, visit your family, do an internship, spend time with friends. After a hectic semester and long study hours, a break from the college is surely a time to relax.
But think this- is spending the entire day in just enjoying and having fun enough? Not really, because once the holidays are over, you would be getting back to your school or college and your studies. So, you must not break off your connection with your books and notes. It may look like a tough task to do when you have no burden of assignments, tests and evaluations, yet you have to study. But it is very helpful to avoid summer learning loss and will indeed help you a lot when you join back your classes.
Some of the suggested ways to keep in touch with your studies are given below:-
Prepare your upcoming semester calendar and mark all the important days, i.e. scheduled tests and exams. According to the dates, draft a study plan with which you are comfortable.
For each subject, prepare a list of the references and notes that you will need for an in-depth preparation.
Keep your work organized as much as possible. Buy folders for each subject and keep sticky notes with you to mark anything important right at that time.
Visit your library at least once during your vacations. Read of books which are relevant to your subject or of your own interest. You will also get the opportunity to choose sources from a vast variety of books, journals and magazines.
Take up one subject at a time and read a chapter from it. Take your time sufficiently. Also, refer to the class notes given along with the chapters.
Now, make your own notes based on your understanding from the chapter. Read them when you get time so that you understand it well.
Expand your knowledge by studying topics online, which are related to your subject. This will not only increase your knowledge about the topic but also strengthen your interest in the subject.
The tips mentioned above will keep you in touch with your studies and avoid summer learning loss.
Here are some benefits of studying even during your summer holidays:
It helps keep your learning fresh
Studies show that we have a tendency to forget whatever we study within two to three days if we do not revise them time to time. And indeed it is true, that's why our parents and teachers ask us to revise our chapters again and again. This helps you to stay connected to your studies and make sure that you do not forget your lessons.
Let us consider a situation where you are taught kinematics a day or two before your winter vacations begin. And you have spent all your leisure time in traveling and hanging out with your friends, not going through the chapters even once. When the college reopens, you would be wondering what does that word even mean!
To avoid such situations, it is always good to revise your lessons during your summer break.
It lessens academic pressure on you
Many institutions assign homework and research projects to students, which are intended to be completed during your vacations. Also, evaluation tests to begin in no time once you resume your classes after holidays. Hence, the vacations are a great opportunity to prepare yourself for the exams and complete the assignments. Leaving both for the last minute will make situations complicated for you, where you will not only be confused as what to do but also lack behind in your scores and quality of your projects and homework.
To prepare for upcoming lessons
As the academic year begins, students have a fair idea about the scope of their syllabus which they will study all through the following semester. So, when you go for your college holidays, you will be having a fair idea about what will be taught in the class after college re-opens. Hence, it will be wise to spend some time during your break to studying. This way, you will be able to understand the concepts better when they will be discussed in class after the vacation.
Helps you analyze your position
When a semester is going on, there are a number of assignments, projects, classes and tests scheduled to keep the students busy. It is difficult during such times to review your own position and evaluate yourself, as to how much do you really know. To solve such problems vacations can be a perfect time, as there is no such schedule to keep you engaged, and you can go through your lessons and make tests for yourself to know your true knowledge.
Prepare tests for each chapter and solve them once you are through with your lesson. For better and fun learning, you can ask your friends to make the question papers too and exchange them with each other. This way, you will get a real chance to test your knowledge while benefiting others around you too.
Get time to catch up
It happens at times that you are lagging behind in a topic or subject, where you are not clear with some concepts or not understood it well. Summer break is the best time to correct your flaws and ace your game. To begin, pick up the topic which seems the most difficult to you. It may seem to be really boring and you may not understand it all in one go, but keep trying until you finally succeed. Keep in mind to focus on one topic at a time to cover up, or else it may get confusing again. Summer is also a great time to hire yourself an online tutor to keep you focused on your pursuit. Online tutors allow learners the luxury of studying at your their pace, at their own convenient time and from the comfort of their home. If you feel you are lagging behind in a particular subject or you need more attention for a particular topic, summer is the best time to tutor up.
To have your parents' support
When your parents are with you and sit beside you when you study, there is no trouble that can come your way. Everyone requires motivation and inspiration to achieve their goals, and parents are the best people whom you can look up to. Discuss your problems with them freely, ask them for help with your subjects and study with them. This will not only make you feel closer to them, but you will also have a mentor at home too, to guide you in the right direction.
Study with fewer distractions
While you are at the college campus or in a hostel, there can be a number of distractions to take mind off the books; friends' plan to the club tonight, the new movie at the theatres, baseball match practice or anything else. You may not be able to keep a distance from such things every time, and it may affect your studies slowly. Studying during your college vacations will give you an environment free of all such disturbances, which will keep you in focus. Hence, make sure you go through your lessons at home during vacations, to understand them without distractions.
Get a chance to apply your knowledge
Practical experience is a must to assess knowledge. If you are a history student, take a visit to the museum and explore the collections present there. Or if fashion is your subject, do your own study by visiting various brands, analyze the fabrics, cuts, embellishments etc. such visits enhance your knowledge and give you knowledge about what is happening in the world, related to your field. You will surely get to learn a lot through such kind of outings.
Now when you know the benefits of studying during a vacation, make the best out of them. You will notice the improvement in yourself as you get back to the classes after vacations. It might seem boring to sit back at home and study when you have the opportunity to have leisure time, but good efforts pay back well for sure.
Reverse your Summer Learning Loss with UrgentHomework
Urgenthomework offers summer tutoring programs for students of K-12, college and universities starting from mid-May till July every year. The learners can opt to study online a subject of their choice and their grade level. Our online tutors will set up a perfect course outline for the same and with the help of that, you will receive personal 1:1 online tutoring with our tutors as well as online homework help with quizzes, practice sets and tests. So this summer use your time in the best way to either improve your understanding of a course or to learn a completely new topic with online tutors from urgenthomework.com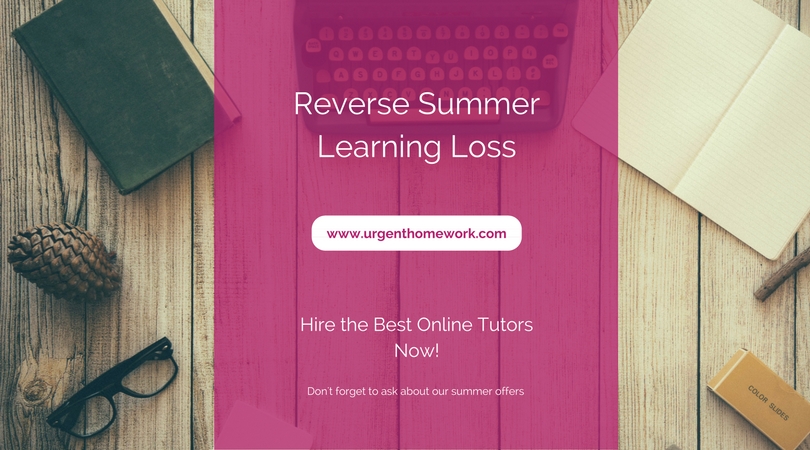 So, how are you planning to keep your study mode on track during the summer break? Do share with us in comments.