"How was your class today Sam?" asked Rob
"It was too boring," said Sam
Don't you feel like Sam sometimes? I don't know about you, but half of the school going students in the USA have the same feeling after a class. There is no doubt that student life is an essential phase of life journey and getting a proper education in this journey is mandatory for all of us. However, attending school classes daily often become monotonous. Same teacher, same classroom, and the same blackboard.
We all are aware of the use of technology and new techniques in education. Most of the elite universities are offering an online degree to make education a way too easier and students are also accepting it without thinking much.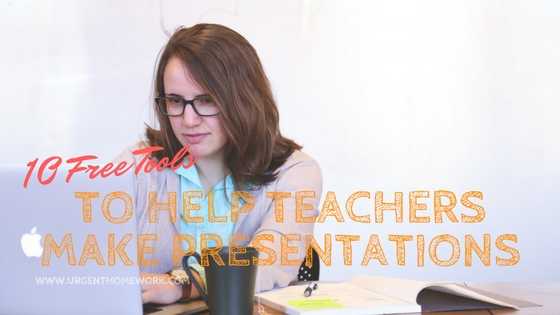 There can be many reasons behind the student's preference for blended learning, but one of them is definitely the teaching methods used by school teachers. Online interactive learning has entirely changed the method of education. It has completely changed the way students learn. As education has become more interactive, personalised, accessible and flexible, there is an immediate need to improve the traditional method of delivering education. For that; universities have to introduce new tools and apps to make classroom learning more interesting and worth sitting for.
Most teachers have started using technology to make education more attractive to students. Today, we are going to talk about some more free tools and apps that will make classroom presentation effective and interesting.
Bunkr
Kill your PowerPoint!
Yes, this is the reason for its creation. Bunkr displays all the relevant web content in a standard effective presentation format. It presents the whole content-related web in user-friendly slides. Just think of it! You don't need to waste your time in taking screenshots and putting them all together to make an impressive presentation for your students. All you need to do is download this app and this will automatically make your presentation much powerful by allowing you to choose from the most appropriate data coming from online altogether.
Read More about Bunkr !
Google Slides
Slide it up!
An array of presentation themes, thousands of appealing fonts, remarkable animation and embedded striking videos; what else you want for your classroom presentation? It is absolutely free and a permanent fixture for your class. Want more? It has an autosave feature. Yes! You read it right, your work will automatically get saved and you can edit it anywhere and anytime.
Impress
Let's Impress!
Like its name, this app will definitely impress your students and will make them participate in classroom discussion. It is a part of Open Office Suite and surely an alternative for mainstream PowerPoint. Microsoft office is not the only option now, there are many ways to make a professional presentation and Impress is one of them.
MoveNote
Bring life to your dull presentation!
Want you make interactive and creative videos for your students? This app allows you to do that. By MoveNote, you can easily record what you are doing on your screen. This app is a lifesaver if you want to make "how to do this" or "steps to do that" videos.
Addpoll
Create trust!
A great presentation must always be well-researched and supported with adequate facts and figures. But how to deliver your presentation with proven facts and figures? Do surveys, know people's viewpoint and create polls before every lecture? Yes, now you can do all these things with a single application, the greatest online poll and survey software Addpoll. This will make your classroom presentation more impressive and more effective.
Cacoo
Make it easy!
Education standards have become tougher for students. Books are filled with more complex and newer information that can be hard to understand and remember. But your teachers can make it easy. After all, this is a teacher's task to make complex data easy for their students and you can easily do it by using Cacoo.
Cacoo is the most effective way to show complex data to students by the use of mind maps, flowcharts, graphs and charts. Insert these charts in your presentation and trust me you are ready to become the most lovable teacher at your school.
Top Hat
Activate your Classroom!
Have you ever been pissed off by students peeping into their mobile phones during lecture? Then be smart enough and turn that into something useful. Transform your passive classroom into an interactive learning environment.
You can facilitate discussions, create polls, make an interesting slide, ask questions and generate customised content, but why is it so special? It is because students can respond and participate in these discussions by using their smartphones.
So, what are you waiting for? Turn your student's distracting mobile phones into a learning device and make teaching fun and effective. Get Top Hat!
Kahoot
Let's Play!
What if playing a game can boost up your student's knowledge? I'm not joking, it's true. Kahoot gives a platform to teachers where they can introduce gaming elements in education. They can create new fun learning games in minutes by adding diagrams, videos and images related to the current chapter so that their students can learn better and in an effective way.
Go change the most difficult lesson in a game and make lessons more impressive.
Pear Deck
Start Engaging!
The main motive of a teacher during a class presentation is to bring every student together and interact in a healthy manner. However, there are always some hidden students in every class who keep themselves under the cover and that directly affect their studies.
For this, a teacher's best friend is Pear Deck. When a teacher starts a presentation on this app, students can join that with their phone and the best part is that students can raise queries and allow answering anonymously. This will make a classroom more interactive and helpful for introvert students.
PowToon
Animate it!
Create an engaging, animated presentation to make it appealing and fascinating. Who don't love cartoons? Your students are going to enjoy your creative presentation. Insert cartoon characters to your tedious presentation and become a Presentation Pro! Read more about Powtoon.
Engage your students in an effective and interactive presentation experience to get the best out of them.  The future of the world is in your classroom, So don't make the lectures boring with traditional teacher-centered classroom become their role model.
Tell us in comments, if you know about more such interesting presentation tools and apps.