Glaucoma in Nursing - UrgentHomework
Previous
Next
Introduction: Glaucoma is a disorder which can damage to the optic nerve of eyes. Due to the disorder intraocular pressure increases inside the eyes which is harmful to the optic nerve. The nerves are meant to send the signals to the brain to create images.
Glaucoma is a condition of raising pressure inside the eyes which has a harmful effect to the optic nerves. Anterior chamber, which is a small space front of the eye, through which a clear liquid comes out. The fluid nourishes the surrounding tissues. But when the condition of glaucoma is there the fluid comes out too slowly increasing it's amount and pressure inside the eye. If the process further takes place without having any treatment or proper medications, the optic nerves may damage permanently which may leads to loss of vision.
Types:
Open angle glaucoma: It is also known as wide angle glaucoma. In this condition the fluid doesn't come out the way it should, where the structure of the eyes looks totally fine. This kind is very common type.
Closed angle glaucoma: In this type there is a huge pain due to heavy pressure in the eyes due narrowing of space between iris and cornea.
Symptoms: The symptoms include:
Surrounding vision lost gradually.
Severe eye pain.
Blurry vision.
Nausea or vomiting.
Redness in eye.
Vision problem unexpectedly.
Near sightedness.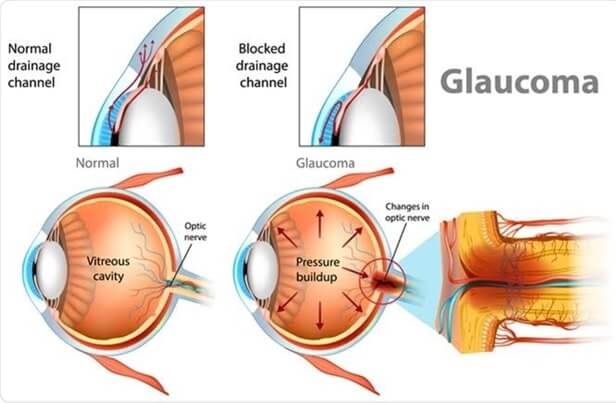 Diagnosis:
Intraocular pressure measuring (Tonometry)
Optic nerve damage testing
Vision loss area testing
Corneal thickness measurements
Treatment:
Eye drops: These are used to low the fluid creating or increase it's amount. But having the side effects be like redness, blurry vision, allergies.
Medications: These may help in proper drainage of fluid or may increase the amount.
Laser surgery: In case of open angle glaucoma, the flow of fluid increase by the surgery. But in case of closed angle glaucoma, the surgery helps in block the flow of fluid.
Draining Tube: A small tube is inserted into the eyes to drain away excess amount of liquid from eyes to low down the pressure.
Home remedies: The remedies can help anyone to control the high pressure from eye and also can lead to better eye health.
Maintaining a good healthy.
Regular exercise.
Have a proper and sound sleep.
Frequent intake of liquid.
To have prescribed medications in time.
⯈ Child Nursing Help
⯈ Adult Nursing Help
Mirror therapy for brain-injured or stroke patients with partial paralysis
The role of self-care management in sickle cell adult patients
The role of nurses in weight loss programs for adults
Cardiovascular risk scores in relation to age and gender
⯈ Elderly Care Nursing Help
Ways to identify an abused elderly patient
Clinical trials in older patients
Change in health care for the elderly in your country
Measures to take when the elderly refuse to eat
Alcohol use among elderly patients in nursing homes
⯈ Women's Health Nursing Help
Acne prevention and treatment in women
Increased risk factors for osteoporosis in women
Factors that alter breast milk content
Ways to teach patients about menopause management options
⯈ Pain Management Nursing Help
Emerging ethical issues in pain management
Influence of patient's race and gender on pain management decisions
Effects of cold therapy (a non-pharmacological method) for pain management
Effective end-of-life care interventions
⯈Primary Health Care Nursing
How well are nurses prepared for primary health care in your country?
Primary health care: comparing public health nursing models in different countries
Patient and family engagement in primary care