Arthroplasty in Nursing - UrgentHomework
Previous
Next

Arthroplasty
Introduction: Arthroplasty is also known as Orthopaedic surgical procedure where the musculoskeletal joint is replaced, remodelled. It is a procedure to relieve pain and restore function to the joint after damage or degradation or other trauma. The objective of arthroplasty is to restore the function of a stiffened synovial joint and relieve pain. As a surgical procedure, it is usually performed when medical treatment has not improved function in the affected joint. There are two types of arthroplasty surgery:
Joint resection: Joint resection involves removing a portion of the bone from a stiffened joint, increasing the space between the bone and the socket to improve the range of motion. Scar tissue eventually fills the gap, narrowing joint space again. Pain is relieved and motion is restored, but the joint is less stable.
Inter-positional reconstruction is surgery to reshape the joint and add a prosthetic disk between the two bones forming the joint. The prosthesis can be made of plastic, metal, ceramic material, or formed from such body tissue as skin, muscle. When inter-positional reconstruction fails, total joint replacement may be necessary. Joint replacement is also called total joint arthroplasty.
Causes: Osteoarthritis is the most common reason for arthroplasty. Other possibilities may include inflammatory arthritis (e.g, rheumatoid or psoriatic arthritis), hip disorders of infancy and childhood, osteonecrosis (avascular necrosis), and trauma.
Symptoms:
Signs and symptoms of an infected joint replacement include:
Increased pain or stiffness in a previously well-functioning joint
Swelling
Warmth and redness around the wound
Wound drainage
Fevers, chills and night sweats
Fatigue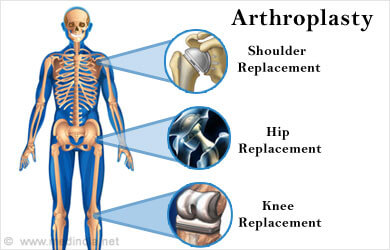 Orthopaedic surgeons follow up with their patients at regular intervals after surgery with a physical examination and X-rays. This process helps ensure the arthroplasty procedure and devices are performing as expected.
Occasionally, patients develop complications following total joint arthroplasty, such as an infection or a loose implant, and the prosthesis or device needs to be removed along with the surrounding damaged, infected tissues. The procedure to implant a new arthroplasty device in place of the original or primary component is called a revision arthroplasty.
⯈ Child Nursing Help
⯈ Adult Nursing Help
Mirror therapy for brain-injured or stroke patients with partial paralysis
The role of self-care management in sickle cell adult patients
The role of nurses in weight loss programs for adults
Cardiovascular risk scores in relation to age and gender
⯈ Elderly Care Nursing Help
Ways to identify an abused elderly patient
Clinical trials in older patients
Change in health care for the elderly in your country
Measures to take when the elderly refuse to eat
Alcohol use among elderly patients in nursing homes
⯈ Women's Health Nursing Help
Acne prevention and treatment in women
Increased risk factors for osteoporosis in women
Factors that alter breast milk content
Ways to teach patients about menopause management options
⯈ Pain Management Nursing Help
Emerging ethical issues in pain management
Influence of patient's race and gender on pain management decisions
Effects of cold therapy (a non-pharmacological method) for pain management
Effective end-of-life care interventions
⯈Primary Health Care Nursing
How well are nurses prepared for primary health care in your country?
Primary health care: comparing public health nursing models in different countries
Patient and family engagement in primary care