Inflammatory bowel disease Nursing Assignment
Previous
Next
Introduction: A condition where the small intestine is inflamed, this disorder is collectively termed as inflammatory bowel disease (IBD). This condition is due to the immune system itself harm the body tissues, gut-friendly bacteria, food in the gut which results in inflammation and injuries of the bowel. The inflammatory bowel disease is of two types which are as follows
Ulcerativecolitis: This is a condition in which the inner lining of colon and rectum are affected by inflammation and ulcers which is long term lasting.
Crohn'sdisease: This is a condition in which the lining of the digestive tract is affected deeply and spreads easily to the nearest tissues.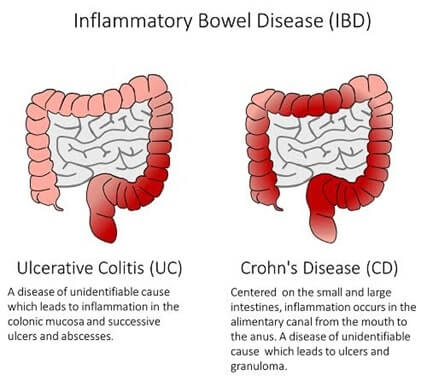 Cause: The cause of the disease is yet to know. But studies say that the combination of bacteria, viruses and some antigens activate the immune system to act oppositely causing the inflammation reaction to the intestinal wall. Another reason may be autoimmune disorders by the own body tissues which result in damage to the digestive tract, abdominal pain, diarrhea.
Symptoms: The symptoms and severity are totally bases on the affected area. The severity varies from medium to complicate.
Pain or cramps in the abdomen due to ulcers.
Bloody diarrhea.
High temperature.
Loss of weight and energy.
Iron deficiency due to blood loss.
Diagnosis:
Stool and blood test: The tests are performed to determine the level of infections, and the difference between ulcerative colitis and Crohn's disease.
Sigmoidoscopy and colonoscopy: A sample of the intestinal lining is taken to check the ulcers or other damages.
Capsuleendoscopy: The test is performed to confirm Crohn's disease symptoms.
CTscan and MRI: The tests are used to check the affected area of the intestine.
Treatment:
Medications: To treat the inflammation doctors recommend anti-inflammatorymedicine. To restrict the damage due to the immune system towards its own cells and inflammation, an immunesuppressant is used.
Antibiotics are used to treat infections due to microorganisms. Antidiarrhealdrugs are used to treat diarrhea and bowel movements. These medications can cause side effects like rashes and infections.
Surgery: Surgery procedure is used to remove the affected area and monitoring colon cancer.
Prevention: The preventive measures are:
Having healthy foods.
Having plenty of fluids.
Regular exercise.
Say no to smoking
⯈ Child Nursing Help
⯈ Adult Nursing Help
Mirror therapy for brain-injured or stroke patients with partial paralysis
The role of self-care management in sickle cell adult patients
The role of nurses in weight loss programs for adults
Cardiovascular risk scores in relation to age and gender
⯈ Elderly Care Nursing Help
Ways to identify an abused elderly patient
Clinical trials in older patients
Change in health care for the elderly in your country
Measures to take when the elderly refuse to eat
Alcohol use among elderly patients in nursing homes
⯈ Women's Health Nursing Help
Acne prevention and treatment in women
Increased risk factors for osteoporosis in women
Factors that alter breast milk content
Ways to teach patients about menopause management options
⯈ Pain Management Nursing Help
Emerging ethical issues in pain management
Influence of patient's race and gender on pain management decisions
Effects of cold therapy (a non-pharmacological method) for pain management
Effective end-of-life care interventions
⯈Primary Health Care Nursing
How well are nurses prepared for primary health care in your country?
Primary health care: comparing public health nursing models in different countries
Patient and family engagement in primary care